BYTE Session Recap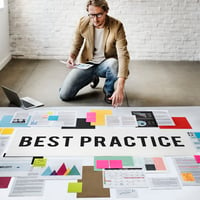 With new EdTech emerging on an almost daily basis, and online learning quickly evolving into digital learning, training professionals must adapt in order to design and facilitate the best programs possible. But with the emergence of blended learning as the new standard, how do practitioners establish their role in the modern classroom?
Jennifer Hofmann, InSync Training President, offered timely advice to BYTE session attendees during her recent session, The Learning Experience Architect: The Hub of Modern Blended Learning. In her expert opinion, a new role (and related title) helps up take the biggest and most important step in this journey.
This post includes Jennifer's recommended steps for assuming the role of Learning Experience Architect. Access her session recording to learn more about the modern classroom, modern learning, and additional details about this new and improved position.
Step One: Stay on trend.
Jennifer urges us to prioritize our own professional development. As we work towards becoming Learning Experience Architects, we must keep ahead of emerging trends, and getting the training we personally need helps us do that.
Jennifer explains, "If we know what's coming next, and how to integrate it into our existing strategies, we're going to establish ourselves as partners to the business."
Fundamentally, this first step ensures that the way our participants work aligns with how they learn in our programs.
Step Two: Access key information.
Our organizations expect us to know about every possible tool, model, and platform available in the modern classroom. Realistically, though, we can't have expertise in everything. Instead, we can set ourselves up for success by accessing knowledge that empowers us to fake it 'til we make it.
Jennifer believes that having a foundational knowledge of key topics (achieved through Step One) and accessing trusted resources where and when we need them constitutes the perfect combination. BYTE attendees recommend resources like blogs, Twitter, and respected industry publications.
Remember, we, too, are modern learners. If we design our personal learning plans correctly, we can grow into high-level experts in everything. In doing so, we'll come to realize that our learning needs most definitely mirror those of our learners.
Step Three: Build your network.
Jennifer strongly advocates for the value of Personal Learning Networks (PLNs) as we work towards becoming Learning Experience Architects. Each network element contributes to our skill building.
To elaborate:
The personal element of these networks requires us to make connections and grow relationships with those who have different areas of expertise. As we collaborate, we exchange insights, answer questions, and discuss the goings-on in this new learning environment.
The learning element relates directly to Steps One and Two. We'll swap ideas and expand upon what we learned on our own. Twitter provides a great platform for this element (and it's social!).


The network element defines the concept of a PLN. Within the network, we have an outlet for immediate outreach. We know who to turn to when a challenging or ambiguous concept arises, letting us focus on getting an answer, rather than worrying about where to start.
Staying aware of the trends, working our personal learning plans, and leveraging our Personal Learning Network establishes our authority as, and comfort in assuming the title of, Learning Experience Architect.
For more information access the BYTE recording here: http://blog.insynctraining.com/recordings/byte-the-learning-architect-the-hub-of-modern-blended-learning