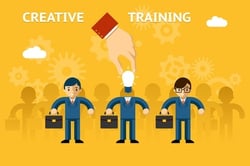 Training and development are extremely important components of employee satisfaction and engagement. Appropriate training and development opportunities also play a factor in your staff's ability to be productive throughout the day. In fact, a recent study found that 87 percent of Millennial-aged employees list opportunity for training and career advancement as extremely important in their job search.

Clearly, training plays a huge role in your company's success, but training sessions can quickly turn into a disaster if not implemented in a structured and professional manner. A training company can offer valuable structure to your training process and are highly skilled in engaging the audience in a way that is conducive to learning. Even if you don't seek the help of a professional company, here are some tips for conducting a productive training session with your employees.

Know Your Audience

The first step towards an effective training is to know and understand your audience. You'll need to gather relevant information on your group such as their familiarity with the topic, their age and gender, and cultural makeup. You'll also want to understand a little bit more about their personalities and work styles. Gauging your audience will help you make informed decisions on how to present the information in a way the group can process and enjoy.

Practice Your Presentation

You can't expect your audience to be excited about a topic, if you're not excited about it yourself. You'll want to exhibit lots of enthusiasm from the very beginning, so you can set a positive tone for the day. Your audience will absorb your energy, so practice your presentation several times before the real deal. Focus on your non-verbal cues when practicing your delivery. Tone and body language are two of the best indicators of real emotion, so make sure you are projecting signs of positivity and excitement. With a little practice, you'll be prepared to lead your group through a fun and productive session!

Use a Variety of Learning Methods

Psychologists and learning specialists have long-implied that people learn and process information in different ways. It's been said that there are a total seven different learning styles. With this in mind, you'll want to incorporate a variety of learning tools into your training session. Consider using a nice mixture of visuals, linguistic applications and physical exercises to allow your audience the time to process the information in different ways. Variety ensures that everyone will leave the training having learned something and will allow your team to rely on one another for recall purposes.

Make It Relevant and Personal

If you want to capture and maintain the attention of your audience, you'll want to identify the relevancy of the training to their everyday work. You'll need to relate the day's training objectives to the learner's personal goals and objectives. If you connect these dots from the beginning, your audience will be more engaged and more willing to participate in the training's activities. They'll better understand why the training is important and will feel compelled to participate.

Make It Collaborative

Most people appreciate being included in the learning process rather than listening to an instructor positioned as a superior or expert. For adults, they'll be most engaged when they have the opportunity to contribute their ideas to the overall process. Consider offering the opportunity for collaboration in small groups and ask your audience to get creative with their contributions.

Collect Feedback and Measure Success

Lastly, you won't want to say goodbye without collecting feedback on the day's session. You'll want to gauge whether your audience learned anything from your presentation. You can do this by requiring a short quiz, or engaging in a fun group comprehension game. You should also make sure you gather feedback from the audience to gauge their perception of your presentation skills as well as the meaningfulness of the content. This step demonstrates that you value their time and input.

These are just a few of the many ways to improve your current training processes. Training is extremely important to your business and your employee's ability to succeed, however, current trainings are often unsuccessful due to a lack of planning and effort. Keep your audience engaged with these simple tips and enjoy the rewards of an awesome training!