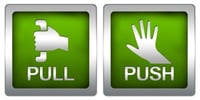 Training Magazine Network Session Recap
On Tuesday, March 8, Training Magazine Network (TMN) provided InSync Training President Jennifer Hofmann with a platform to share "How to Engage Modern Learners: When to Push and When to Pull." This subject resonated with the TMN audience because, as Jennifer pointed out, "Does your expectation of how you learn align with what it was even a couple of years ago? Of course not, because we're modern learners and we have a lot of choices in how we learn."
Now that learners are starting to expect that these choices are available to them, how do L&D professionals meet those expectations?
This blog will share key points from Jennifer's presentation and provide guidance for creating learning programs that engage learners and adapt to the modern workplace culture. For more information, you can access the full session recording here.
What is the Modern Classroom?
Today's learners participate in a classroom that's radically different than previous iterations because it's an experience, not a physical place. Jennifer explained that the modern classroom combines three things:
Technology: We use a number of technologies in the modern classroom, including social collaborative tools, virtual classroom technologies, and infographics. Technology's purpose is to connect members of the workforce.
Trends: Today's workforce is global, mobile, and social, and these trends are redefining our classroom.
Places of learning: Jennifer maintains that learning takes place in one of four locations - in a classroom, at the learner's desk, on a mobile device, and on the job.
Who are Modern Learners?
Research by Bersin and ATD identifies that today's modern workplace learners are demographically and geographically dispersed. Contrary to popular belief, learners aren't just millennials. To this point, Jennifer shared, "I was teaching a face-to-face class recently and the question was, 'How do we engage millennials in pull training?' Participants pulled together for 20 minutes and the answer for several people was, 'Everything that engages millennials would engage me, too.' The problem is that I didn't expect this. I have a lower expectation of engagement, and if we design this very engaging content, it would engage all of our learners, not just millennials. We're raising the bar here."
What Is and Isn't Learner Engagement?
Before we can create learner engagement, we have to understand it on a fundamental level. Jennfier stated, "Learner engagement is NOT learner motivation, attitude, active participation or trainer competence."
Learner engagement, Jennifer clarified, is:
An emotional response to training. (How does the learner feel about the content and its presentation?)
An intellectual response to the training. (Does the instructional experience require and involve the learner's intellect?)
An environmental response to the training. (Do the learners interact with the learning environment? Is the environment changed because of the training?)
3 Principle Approaches of Learner Engagement
To really understand how to create learner engagement in the modern classroom, Jennifer connected three approaches
Approach 1: 5 Guiding Principles for Modern Workplace Learning by Jane Hart
Jennifer reviewed Jane Hart's five principles, which are:
Supporting a much wider range of learning experiences.
Loosening control and autonomy.
Supporting enabling learners; not just designing and managing content.
Focuses on performance, not just learning.
A new relationship between learning & development and the business.
We are encouraged to think about how we would apply these principles to change and enhance the learner experience in our organizations and how they impact engagement.
Approach 2: 5 Moments of Learning Need by Dr. Conrad Gottfredson and Bob Mosher
Jane Hart and her five guiding principles taught Jennifer that, "We need to respond to the learner in their moment of need." But what's the personal moment of learning need? Dr. Conrad Gottfredson and Bob Mosher define the five moments of learning needs as:
When learning for the first time.
When learning more.
When remembering and/or applying what's been learned.
When things go wrong.
When things change.
Jennifer knows that we are really good at creating learning for moments one and five (when learning the first time and when things change). But if we can expand our focus and consider other opportunities, we can help improve our learner experience.
Approach 3: Push/Pull Training by the Performance Improvement Blog
Jennifer pointed out that "There's a vast rate of change with the digital revolution we are going through. It's a slow revolution that's going to continue. It's transforming all parts of business and it's forcing us to change our model."
Currently, we're operating in a Push Training Culture that's "instructor-centered, comprised of scheduled events, centrally managed, siloed, and all about the delivery." To really engage learners in the modern workplace, we need to shift to a Pull Learning Culture that's "learner-centered, on-going, decentralized, shared, peer-based, and results-focused."
Making the Connection
Jennifer showed that all three of these approaches connect to one another. She explained, "Jane Hart's five principles set the foundation for how we think about modern workplace moving forward and the idea that we need to support our learners when they have a moment of need. The five moments of need create definitions of the specific moments that learners have needs. And Push and Pull Training starts to distinguish between these moments of need. It also really supports the Modern Workplace Learning Principles; we're enabling learners in all moments of need and as a training organization, we're focused on performance, not just learning."
For more information about making a Pull culture work, obstacles to implementing a new Pull culture, and additional insights on the topics discussed here, watch the full session recording.
In addition to the session content, Jennifer made the following related infographic available for download: What is Driving the Modern Learning Culture?