Early employee engagement helps everyone. It accelerates the time it takes to be able to do a job well and reduces costly turnover.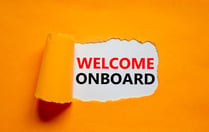 It's especially important for remote employees working in a hybrid environment. It's so easy to get lost in the virtual noise, and not feel supported.
Not ideal.
When onboarding new employees, it's not enough to simply say that your organization is welcoming. This must be evidenced in your actions.
Creating A Safe Virtual Space
If you are a leader who regularly brings new employees onboard, you know this journey all begins with psychological safety. According to, The Stanford Health Improvement Program, "Studies show that psychological safety — the belief that you won't be punished when you make a mistake — is a critical indicator of workplace performance."
73 percent of job seekers report significant stress related to finding work, according to a survey by Inc. Once that job seeker accepts a new position, they often quickly transition into their new role with a new company. This can be thrilling. It can also cause some first day of school jitters. So, what can you do to help promote psychological safety during the new hire onboarding process?
In my new role as marketing director at InSync Training, the first 30 days of the onboarding journey provided me with my first impressions of the company culture, values, and structure. This onboarding phase allowed me to warm up to my new team, comprehend expectations and how those expectations would be measured, and get involved. I'd like to share some examples of how I knew I was in a psychologically safe onboarding environment.
Consider experience, and then consider the onboarding environment in your organization – especially for remote worker in a hybrid environment. Are you ensuring psychological safety?
Communication
Communication is even more important when onboarding remote employees. From the time I was hired until my first day of employment, my employer stayed in touch letting me know she was excited that I joined her team. Colleagues connected on LinkedIn before I started so I was able to meet my new colleagues online.
Paperwork
One of the most overwhelming parts of the onboarding process can be accessing and completing all the new hire paperwork. Sapling HR experts found that new employees complete an average of 54 activities, including 41 administrative tasks during the onboarding process. This was not the case for me. I vaguely remember I had paperwork, which tells me the thoughtful approach of providing a simple checklist helped me quickly complete administrative tasks.
The warm welcome
The first and most obvious step to onboarding a new team member is to create a warm and inviting atmosphere. As a new employee, I was a bit nervous. What eased some of my anxiety was that the founder and president of InSync set up a meeting at her office on my second day at work. She greeted me with a smile and a company-branded water bottle. This first interaction set the tone for the day and put me at ease. We met for a few hours, enjoying lunch while chatting about the history of the company. Then, we touched upon marketing and company goals. I received a guide, which set expectations for both the employee and the organization. I was asked to review and provide my thoughts and goals.
Allow your new hire time to get to know the company
To better understand the classes InSync Training offers, I registered for Virtual Classroom Facilitation Fundamentals. This virtual training experience was better and more stimulating than any in-person classroom experience I can recall. Both the producer/host and facilitator spoke calmly and clearly while encouraging each learner. Learners were reassured it was okay to ask questions at any time. We raised our virtual hands, and the questions and answers were well-ordered and summarized in the chat area. Every few minutes there was a new activity. I was continually engaged, yet the breaks were impeccably timed. The learners supported each other in the chat and with emojis. Breakout activities were beneficial, brief and we clicked emojis to let the facilitator know when we completed tasks. This safe learning environment boosted my creativity during the whiteboard exercises. I was exhilarated to be a member of this organization!
Remote…yet near
There were plenty of virtual opportunities available for me to meet my new teammates. And Zoom fatigue was not a problem, as the use of cameras is optional at InSync Training!
During the second week, a management team virtual happy hour allowed the team to socialize in a relaxed environment. Many office communications are organized through MS Teams. A virtual water cooler channel allows for spontaneous conversations with colleagues, keeping me cheerful in the office. Another channel extends the opportunity to send notes of recognition messages for all to see. And if I have a resource, tool, or general questions, there are channels for those, as well.
To connect with the larger team, I was introduced to the MS Teams watercooler. Our team watercooler involves team discussion and chatter – the kind you would find in a traditional office breakroom. We talk about our day-to-day lives, observations about work and the world, and fun, sometimes astonishing, stories about the trials and triumphs of working in L&D.
Shortly after starting at InSync, I attended a management offsite meeting on a shimmering Lake in Maine, where we worked, took some time out to walk in nature, and enjoyed a wonderful dinner. This was a special touch and made me feel welcome.
The best way to engage a new hire is by creating a psychologically safe onboarding experience. Take some time to develop your company's onboarding strategy. Like me, your new hire will appreciate the active role you take in their onboarding.
The "Great Resignation" has shown us that employees want a better work experience, not just higher pay, and more perks. As we rebuild our workforce, we need an engaging onboarding process that connects new hires to their jobs and to their peers, which sets the tone for everything that comes after. How do you accomplish this with remote employees in a hybrid workplace?
Click here to learn more about InSync Training's Trends in Virtual Training - Expert Series workshop, Getting Virtual Onboarding Right – Maximizing New Hire Engagement in the Hybrid Workplace, which explores how to design a virtual onboarding program, how to connect remote new hires to the rest of the organization, and how to make the first 30 days on the job positive, memorable, and energizing.
But there's more! Trends in Virtual Training - Expert Seminar Series includes 12 trending workshop topics for up to 12 people in your organization. Purchase 5 workshops and the 6th workshop is free! Click on the image below to learn more.