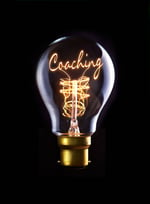 Coaching involves two very important parties:
The relationship and interaction between these two individuals impacts the overall success of the process. Recently, the InSync team shared what skills make coaches effective: thoughtful questioning techniques, foundational models, and a personalized approach.
But what can coachees do to make this a positive professional development practice? Our expert team once again shared their wisdom and a few key recommendations.
Be honest. . . about your skills, your expectations, and your goals. Knowing where you're starting and where the organization expects you to go helps you manage your own expectations up front. Additionally, transparently communicating your present skills and desired end-state to your coach enables them to most effectively guide you through targeted skill building.

Be prepared. Treat coaching like any other professional development opportunity. Arrive to each session on time and ready to learn. Have access to resources and needed equipment. Thanks to the boom in the hybrid workplace, not all coaching happens face-to-face. If your sessions occur on a virtually, ensure you have functional audio set up, a headset with a microphone, and a quiet work space.

Be realistic. Coaching, especially when included in a more comprehensive blend, offers a huge number of benefits. But, like all training, it has limitations. At each stage of the process, look for gaps or opportunities for improvement. Review your progress, assess your new skills, and regularly level-set your goals based on these factors.

Be open. Oftentimes, coachees find themselves surprised by the process or the feedback provided. Be flexible and welcome unexpected suggestions and try to incorporate new techniques into your work. Boundaries are absolutely imperative to the process, but resisting change limits your professional development.

Be an advocate. Our virtual team agrees that the best coaching results occur with active coaches that have managerial buy-in. If the organization supports your coaching experience, fantastic! Continue to communicate with your organizational sponsor to keep them in the loop. If you don't have stakeholder support, you may need to actively seek out backing.

Be forward-thinking. How will you use what you learn in coaching back on the job? When do you plan to practice new skills? Will you need additional guidance in your day-to-day role to get to the next level? Creating an implementation plan allows you to identify the easiest things you can do to yield the greatest results.
As learning professionals, we understand why coaching resonates so strongly with learners. It speaks to a number of adult learning principles – it includes highly relevant content, the process honors previous personal experience, and it likely centers around core professional tasks.
Including coaching within a broader program or pursuing it to increase your facilitation, production, or instructional design abilities offers a valuable return on investment. Coaches, share these success tips with your future learners to empower their success. Coachees, try to adjust your mindset to include these perspectives to help you get the most out of your next coaching opportunity
The path to virtual instructional excellence depends on many factors, but without a doubt the Virtual Learning Coach plays a pivotal role in getting there. Click on the image below for more on becoming a Certified Virtual Classroom Coach™.