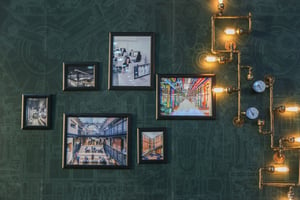 Picture this: your boss comes to you and says, "Hey! You know that training program you facilitate in the classroom next week? Guess what?! I need you to teach it live online." You likely react with panic and surprise. Thoughts run through your head, like:
You're kidding, right?
Will people be bored?
What platform will we use?
How do I get organized?
Unsurprisingly, these conversations have happened more in the last three months than ever before. Granted, they happened all the time before a global pandemic radically uprooted the way we work and learn, but now, we really feel the pressure to adapt NOW.
Ready or not, it's time to go live!
Look Back to Look Ahead
Concern about moving to the virtual classroom often stems from a stellar problem to have -- we believe the face-to-face program rocks.
In speaking with hundreds of nervous clients and anxious trainers, we ask them early on: What makes your virtual classroom programs great? Common answers include:
Rich learner discussions
Visible engagement
The ability to connect with participants
Dynamic facilitators
Social learning and collaboration
People love the traditional classroom because of the associated comfort it provides. We know how to interact. We understand the expectations. We know what good looks like.
But...what if we could preserve all the things we love about face-to-face learning – the connection, the energy, the engagement – and amplify them in the virtual classroom?
Reframe Your Vision
By knowing what makes training great, we can recreate that experience, and improve on it in a new environment. Plus, it lays the foundation for a reframed vision of live online learning.
Too often, especially now, trainers apologize to learners as soon as a virtual session starts, lamenting, "I'm so sorry we have to meet online and not in a real classroom."
DO NOT DO THIS.
By launching a live online session with an apology, you invite learners to disengage and give them permission to believe the training won't have an impact. Even facilitators new to the virtual classroom say they can feel the moment learners get turned off after this introduction. It's like the air gets sucked out of the room, and even more panic ensues as the trainer spirals into, "Oh no! How do I get them back?"
INSTEAD, reframe this new option as an opportunity. This step matters as much to the facilitators and designers as it does for learners. A message as simple as, "Welcome! I am so excited we could come together today to learn." completely changes the emotional dynamic of the event.
If you can't escape the angst of moving a great training program to the virtual classroom, break learning down to its most basic components. Face-to-face learning consists of lecture, practice, and independent work empowered by interaction and engagement. Now, consider how those components can exist in the virtual classroom. Platforms like Webex, Adobe Connect, and Zoom all have features that allow every one of those elements to exist online.
Once you wrap your head around how learners can come together, how facilitators can guide participants toward mastery, and designers can plan for practice and skill application, the investment in virtual learning becomes much easier and much lower risk.
As learning professionals, we have to rethink our perspective of the virtual classroom. This environment is not a last resort or a cheap substitute for "real" training. It's a rich and adaptable option that enables us to continue educating learners so they can build the skills they need to succeed. Facilitation and instructional design best practices remain the same, just the vehicle for implementation changes.
Keep an eye on our blog for more tips for How to Go Live! The team will release more blogs in the coming weeks on this important topic. We also encourage you to review the associated Virtually There session recording with industry expert Karen Vieth to learn from one of the best in the business on-demand.