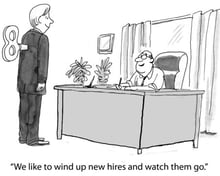 I'm frequently asked, "When is a good time to introduce virtual classroom training programs to my organization?" As with most innovative learning approaches, organizations may resist adopting virtual classrooms, since they're different from the status quo. Equally as important as implementing the virtual classroom model correctly, is selecting the right program with which to introduce the approach to your corporate learners.
New hire training is the perfect place to introduce virtual classrooms as a learning option, even if all of the new hires are co-located in the same physical space. I know, I know - if you can easily get them into a traditional classroom, isn't that better? Well, no.
Introducing the virtual classroom to your organization during new hire orientation increases technology adoption across the enterprise, accelerates learning for the new hires, and is authentic.
Why It Works
There are several reasons introducing the virtual classroom to your organization during new hire training increases adoption.
First, new hire training is the first experience new employees have with your organization's learning function. If the first learning experience a new employee has in your organization is in the virtual setting, you're sending a clear message that this is the way we learn around here. We consider this a legitimate way to teach and to learn. Essentially, you're setting the expectation and the learning culture standard for these new learners. Since they will be learning at their own desks, near their own co-workers, and using the technology they will use to do their jobs, a more authentic learning environment is established. It's all good.
Second, after your virtual new hire orientation has been around for several years, there will be fewer and fewer naysayers. The most vocal employees will have experienced and bought into virtual training, especially if it's designed well. (More on that in a minute.)
Third, by using a virtual and blended learning design, you no longer have to stuff a bunch of unrelated topics into an overly long first day at work. I still remember being 21 years old and being taught about my health insurance options during my second hour on the job, when I wasn't even eligible for insurance for 60 days! Even after many years, I remember how overwhelmed I felt by that process. Virtual and blended training programs eliminate the "drinking from the firehouse" sensation, and allow you, as the learning professional, to present the most relevant information at the most appropriate times.
The Key to Virtual New Hire Orientation: Good Design
So what do I mean by well-designed virtual learning? You want to design your virtual new hire orientation so that it takes advantage of all of the positive energy your new hires have.
Step 1: Focus on what you know they're excited about. What's their job? What should they expect day-to-day? How will they learn to be a valuable part of your team?
Step 2: Send them to work to meet their supervisor, their coworkers, and get the lay of the land.
Step 3: After that initial short training session, schedule regular, maybe even daily, lessons to complete the entire new hire curriculum. Discuss benefits 30 days in, when they are much closer to needing to make a decision about them. Provide a self-paced tutorial on the history of the company, instead of lecturing about something that's not immediately relevant to people's jobs. HR topics can be sprinkled over the course of the first week or two, allowing learners to master not just the administration required by HR, but integrate that into their workflow.
As a matter fact, maybe model that a little and make the training sessions even on day one occur in the afternoon, so the morning is spent getting familiar with their surroundings and starting to form relationships. Take advantage of that eager energy that comes with the first day on the job.
Step 4: Offer skills training as part of new hire training. Again, I would create a blended learning solution that allows learners time in their workplace to start to master smaller tasks and practice what they learn in your blend as they build towards mastery. Maybe begin and end each day with a one hour live lesson, while they have tasks to complete related to those lessons during the day. These tasks might include simple things like interviewing supervisors, coworkers and potential clients. They might include taking their first customer service phone call. Or creating an Excel spreadsheet for the finance department. The first hour of the day is spent teaching them the basics of the skill and providing resources on how they can practice that skill. The last hour of the day is spent debriefing their successes and coaching them on how they might do better work the next day.
These are just a few ideas that might or might not apply specifically to your organization's new hire program. Think outside of the box when using a new virtual or blended approach. All of the new hire training doesn't have to happen on the first day, or even in the first several weeks. By designing a lesson that allows your new hires to integrate into their teams, practice new skills, and still have the opportunity to ask for help in a safe environment, you can really have an impact on workplace culture moving forward.