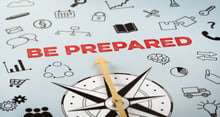 Even though virtual classroom platforms have existed for over 20 years, many learners and learning professionals struggle to thrive in this environment.
One of the reasons is that the same technology "bells and whistles" that designers and facilitators use for engagement activities can distract and overwhelm our audiences.
Our team thinks about this phenomenon on a daily basis, since we produce, facilitate, design, and manage learning events hosted on any one of the popular platforms like Zoom on a daily basis. We strive to prepare virtual learners and facilitators for success, and you can too, with a few simple, easy-to-incorporate tips:
Teach learners how to learn online. Every adult learner knows how to attend a traditional face-to-face classroom training session. We all spent over a decade of our lives learning new content in this environment as children and young adults. We all understand the expectations involved, from learner engagement to appropriate interaction behavior to the instructor's role. But when we move learning live and online, we need to make sure everyone in the virtual classroom feels comfortable participating. We host a regular Learn How to Learn Online session to orient new and returning virtual learners to the tools they will need to know how to use and program expectations. This process alleviates learner angst about the upcoming learning experience and helps everyone arrive ready and enabled to engage!


Define training value from the start. The "what's in it for me" principle still applies in the virtual classroom. Learners not only invest time into training, but also their ability to successfully do their jobs. If learners feel that a training session or entire blend does not align to their goals or their needs, engagement flounders. Before launching a new virtual training initiative, be sure to clarify and clearly communicate the ways in which it relates to an audiences' role or struggles. Simply listing learning objectives won't cut it. Think more along the lines of, "By the end of the first session, you will have a four-step process for more efficiently submitting your quarterly reports." Learners will focus less on "where" learning happens when they better understand the "why" it's taking place.


Design around the core information. In today's business environment, most organizations cannot invest in two-day training events that include 16 hours of instruction. When moving to the virtual classroom, many designers feel compelled to simply compress all the existing information into whatever new time frame available to them. This process results in lightning speed lecture on the part of the facilitator and disengagement on the part of the learners. Instead, the design model should focus on the key content combined with collaboration and application. The other details should become take-away resources, instead. Infographics and job aids that learners can take away from training and use back on-the-job offer a valuable and flexible option for supporting learners long after formal learning ends.


Empower learners to make choices about their personal learning journeys. While formal learning may take place in the virtual classroom, every program today includes a blend of structured and informal learning moments. Historically, we expected learners to engage with every activity and piece of content. But as blends become more complex and we aspire to greater training personalization, we need to accept that each learner will find different value in different elements of the program. They may not watch every available video or download every job aid or contribute to the discussion boards the way we planned. But as long as learners understand how the virtual classroom events and associated support resources can contribute to their ongoing success and where to turn when they have a question or need, the virtual blend has succeeded.
Good design, learner preparation, and clear communication can improve the adoption, long-term value, and engagement of virtual learning events and blends.
What process or tips have you applied to your programs? Share them in the comments below!