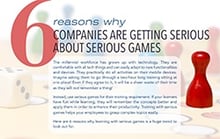 The millennial workforce has grown up with technology. They are comfortable with all tech things and can easily adapt to new functionalities and devices.
They practically do all activities on their mobile devices.
Imagine asking them to go through a two-hour long training sitting at one place!
Even if they agree to it, it will be a sheer waste of their time as they will not remember a thing!
Instead, use serious games for their training requirement. If your learners have fun while learning, they will remember the concepts better and apply them in order to enhance their productivity. Training with serious games helps your employees to grasp complex topics easily. Here are 6 reasons why learning with serious games is a huge trend to look out for.
Based on Andrew Hughes' Virtually There session, Serious Game Secrets - Who, What, Where, Why, Who Cares?, this infographic provides guidance on why learning with serious games has become such a significant strategy in today's modern workplace.
To download the infographic, 6 Reasons Why Companies Are Getting Serious About Serious Games, please complete the form and click on the Submit button.