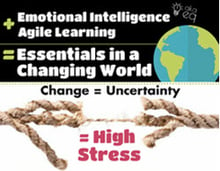 The seismic changes in the workplace today are creating stress, volatility and uncertainty.
With no signs of the rate of change slowing down, and in fact accelerating, we have to increase our personal and professional agility or burn out. This infographic, based on Marjorie Derven's BYTE session, Emotional Intelligence (EQ) and Agile Learning in the Workplace, helps you to understand how building emotional intelligence allows learning professionals to be more effective at your job.
To download the infographic, please complete the form to the right and click on Download.
For additional information, you might be interested in the following resources: