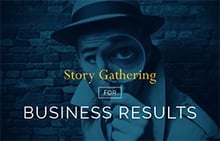 Understanding customer's biases and how to tell a customer hero story with real business results will help fast-track your customers to believing and buying.
You can use your current customer's stories to paint a picture for your potential customers/prospects. Let the story sell for you.
This infographic will help you build a compelling customer hero story with simple pragmatic tools you can use tomorrow to differentiate and sell.
To download the infographic, Story Gathering for Business Results, please complete the form and click on the Submit button.