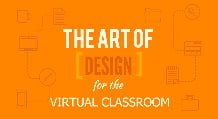 Designing impactful virtual lessons takes more than the science of instructional design; designing for the modern virtual classroom requires an artful approach to creation.
At a high-level, this infographic describes InSync Training's four step virtual design process
Include this approach with your traditional instructional design method, and you'll move from instructional webinars to true learning.
To download the infographic, please complete the form and click on "Download."
For additional information, check out this recent blog post, The Art of Design for the Virtual Classroom, by Jennifer Hofmann.