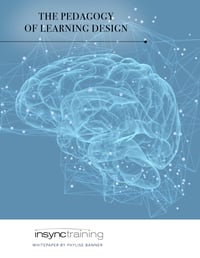 The term pedagogy is often loosely defined as the art or science of teaching. Derived from French and Latin adaptations of a Greek term, the word denotes the ancient Greek tradition of having a slave who would lead his master's child to a place of learning -- literally "leading the learner to learn."
Leading learners to learn is the art and science we embrace as professionals in the field of e-learning.
This whitepaper reveals the craft that lies at the intersection of that art and science, merging learning theories with applied effective practices in support of quality e-learning experience design -- the craft that enables us to lead our learners to learn.
To receive your complimentary copy of The Pedagogy of Learning Design, written by Phylise H. Banner, just fill out the form to the right and click on the 'Submit' button.