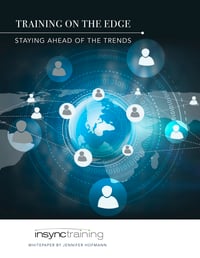 In this whitepaper we will examine the outlook for the modern workplace for the next five years, as well as four key trends associated with adapting training to the new context.
As these trends play out, we need to consider how to implement a culture change in our training organizations and identify some of the challenges these changes will bring.
The four trends we'll explore are:
Trend 1 - Blended Learning and Flipping the Classroom
Trend 2 - Collaboration as a Competency
Trend 3 - Cognitive Educational Technology
Trend 4 - Blurring the Lines Between Work and Learning
We'll also explore the personality of the modern work force, especially intergenerational dynamics, as well as the context in which our learners are, and will be, working.
To receive your complimentary copy of Training on the Edge: Staying Ahead of the Trends, please complete the form on the right and click the 'Submit' button.