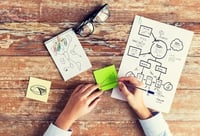 By nature, blended learning involves a more complicated instructional design process than creating stand-alone training content.
InSync's experts recommend matching each learning objective in a blend to the most authentic instructional design treatment available. In this case, authenticity often refers to design choices that reflect how learners will apply information back on the job.
To streamline the process, we broke the design process down to addressing three specific components:
Instructional Strategies
Instructional Techniques
Instructional Technologies
Watch the below video for more information about these components. Looking for more detail? Read one of our most popular blog posts: 5 Modern Approaches- An Instructional Strategies List.
This modern approach to blended learning design meets the needs of learners no matter what their learning environment.
To watch the video, please click below.
Are you interested in learning more about our Virtual Classroom Design Instruction Design Mastery Series? Click below for more.