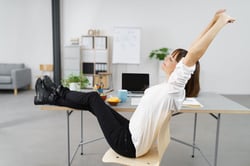 I, like many of you, spend my work day at my desk. I'm lucky to climb the corporate ladder from a cozy home office, often kept company by my three Labradors.
Recently, though, I stumbled across a scary fact courtesy of the world-renowned Mayo Clinic:
"Any extended sitting – such as at a desk, behind a wheel or in front of a screen – can be harmful. An analysis of 13 studies of sitting time and activity levels found those that sat for more than eight hours a day with no physical activity had a risk of dying similar to the risks of dying posed by obesity and smoking."
It feels like a requirement across job title and industry that we spend hours a day at our desks. I think about the virtual facilitators and producers at InSync, who support learners through comprehensive online training programs. They offer guidance to modern learners while at their desks, as well.
As the Mayo Clinic research points out, making an effort to regularly exercise can improve our overall health, and possibly reverses some of those scary side effects of sitting. But how do we mitigate the risks associated with the realities of the modern workplace? Simple stretches!
Fitness expert and friend to InSync Training Amy Kilburn created an easy-to-follow five-minute video that walks you through stretches you can do from your desk. Check it out here: https://youtu.be/2Eq5HWQcMjQ
Try it out during your next marathon conference call, in between virtual classroom sessions, or as a break between to-do list tasks.
Feel free to share them with your learners and co-workers. Because, as experts like Dr. John Ratey point out, a mind-body connection and physicality can literally improve cognitive function. Adding these desk stretches to your professional repertoire may take your work to the next level!