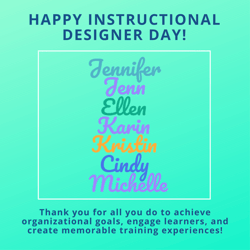 Big News! Today, InSync Training hosts our first-ever Instructional Designer Day celebration. Moving forward, we will dedicate the third Wednesday of March to highlighting the important contributions of those who create training programs of all sizes and types. Each year, this informal holiday will include kudos and tips shared on social media using #InstructionalDesignerDay, complimentary content and events, and more. We encourage you to join the virtual party by using the social media hashtag to give shoutouts to colleagues, commenting on this blog, and extending the festivities to your organization!
Have you ever attended a learning program that helped you build new skills? Have components of a blend that captured your attention and engaged your brain? Have you walked out of a classroom and thought, "Wow! I learned something valuable today!"? If you answered "yes" to any of these questions, you need to thank an instructional designer!
For more than 20 years, the learning landscape has undergone an evolution. New technologies like virtual classrooms, eLearning, mobile apps, and immersive options emerged, as have the expectations of learners and stakeholders. And while practitioners of every learning specialty do their part to contribute to the success of increasingly complex learning experiences, instructional designers lay the foundation.
In fact, in our team's experience, instructional design matters more in the virtual environment than in traditional face-to-face classrooms. They play a key role in engaging learners across three critical dimensions, and connecting business needs to learning objectives. By leveraging technology, not using it as a crutch, designers create authentic opportunities for knowledge transfer and skill application.
Beyond these overarching and mission-critical additions, we at InSync acknowledge instructional designers' abilities to:
Be calm. –Stakeholders often have lofty goals and short timelines. Even after a design project begins, clients add additional learning objectives and delivery formats to already in-progress designs. Instructional designers masterfully handle these requests, adapt where possible, and continue to focus on creating positive events that achieve desired outcomes.
Inspire calm. - Learners and leaders alike can feel overwhelmed by the modern classroom. The bells, whistles, and technology can intimidate seasoned employees. But, through their clear vision and helpful learning maps, instructional designers can put participants and instructors at ease. Furthermore, their programs reassure business leaders that learners can achieve positive results and become proficient in the skills essential to navigating today's workplace.
Demonstrate expertise. - Did you know? Instructional designers apply seven core competencies in their work? They think analytically, design for accountability and engagement, and consider the importance of Adult Learning Principles. Every session, lesson, and activity reflect thoughtfulness and creativity.
Embody professionalism. - Through competency-based work, innovation in the face of changing industry standards, and consideration of learners and business goals, instructional designers consistently exceed expectations. Their willingness to think outside the box enables facilitators to deliver content memorably, and learners to better do their jobs.
In light of the critical role designers play in the ability of organizations to empower employees through meaningful learning journeys, we spend today thanking and virtually high-fiving all of those involved in the design of modern corporate training.
Thank you for all you do!