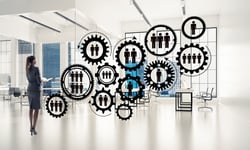 This month, guest contributor Jenny Holt explores the helpfulness of technology in supporting both virtual learners and virtual teams.
Studies show that conversation between colleagues boosts performance by 20%, but this can be challenging to make the most of when remote teams are increasingly split across the globe.
Training is an area of business where communication is absolutely key - the prevalence of remote and virtual teams places even more responsibility on the virtual trainer to bring teams together regularly and enable meaningful interaction between members. There are various aspects of technology that can be used effectively to make the training experience more streamlined, while also boosting overall team performance in the process.
Using Response Technology
In America, 59% of companies allow employees to use personal mobile devices for work purposes. This can be helpful for training methods such as response technology. This involves trainers posing questions within a presentation and trainees responding via a tablet or smartphone. Results can then be shown on the screen for everyone to see, opening the way for further discussion among the team. This sort of technology empowers the trainees by allowing them to participate more actively in the training, helping to keep them more engaged. It also enables the trainer to assess more accurately the levels of understanding and any areas that may need more clarification. The latter is enhanced by the fact that it is far more likely that all trainees will respond to end-of-course review questions on mobile devices than on paper. This gives trainers useful feedback about how to tweak training in future.
Online Virtual Lab Environments
To enhance the training experience, many training courses often incorporate practical labs, in order to allow students to work through real-world scenarios and cement their knowledge. Online virtual lab platforms such as CloudShare are particularly prominent in this area. They allow learners, whether in the room or remotely, to log into a computer environment via a web browser. This means that all of the processing power and physical hardware required is taken care of by the virtual lab provider. Students simply need a device with a browser to participate in the virtual labs.
Mind Mapping Apps
Mind mapping is something that most pre-millennials will be familiar with: brainstorming on a whiteboard or piece of paper as a way of coming up with ideas for a project. The development of apps such as Popplet means that teams can generate, share and save ideas online. The benefits are that it enables team members to collaborate even if they are not in the same building, and that the mind maps will not be lost; they can be referred back to and built on as new ideas emerge. In contrast, the old fashioned pen and paper approach arguably results in lots of ideas being forgotten about and ending up in the trash.
Technology Can Enhance Team Training
The rise in the number of people working remotely means that teams are not necessarily working alongside one another. The use of technology in the workplace can help team members stay in touch. When it comes to training, response technology, online virtual lab environments and mind mapping apps enable teams to learn together and share ideas in a meaningful way. Remote working may be on the upswing, but technology can help keep teams connected.