The InSync Training team includes a group of fantastic virtual classroom instructional designers.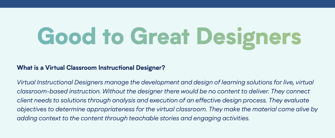 They make the material come alive by adding context to the content through teachable stories and engaging activities.
Instructional designers are on the front-line learning how to develop content in new platforms, how to engage learners with technology, and making the business case to invest (or not invest) in the latest and greatest EdTech trend.
So, what's the difference between a good designer and a great designer? Great designers need to be project managers, writers, software developers, adult education experts, and business partners.
This must-see infographic: Good to Great Designers, explains exactly what you need to know to be a Great Designer.