InSync Training Offers New Program Directed at Training Managers For Continuous Virtual Program Improvement
InSync Training introduces "Certified Virtual Learning Coach™" – the first-to-market ANSI -compliant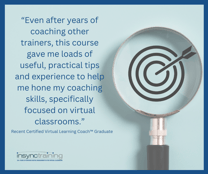 accredited course for training leaders directed at developing virtual learning excellence via team coaching. Training Managers responsible for virtual learning strategies are now able to effectively assess the quality of individuals supporting virtual facilitation, virtual instructional design, and virtual hosting/support, and coach them to virtual excellence.
"In 2020, virtual learning was a means to an end – a way to engage the workforce in learning and development when the entirety of the day-to-day routine was rapidly changing with limited or no in-person interaction. By now, the capabilities of virtual learning are apparent to most training managers but based on our survey in the marketplace of hundreds of mid- and large-scale organizations, the use of virtual training is still perceived as of marginal value to both participants and training managers." said Dr. Charles Dye, Technical Director and lead researcher at InSync. "In an environment of hybrid workforce, one key to long term success is leveraging virtual learning effectively and making it a better experience for the learners through internal continuous improvement of design and delivery and making virtual the preferred methodology for delivery when it makes sense to do so. The sense in the field is that virtual training needs to be an integral part of the training solution for a hybrid workforce, but many practitioners are unsure how to make the learning experience worthwhile."
Read the full press release on PRWeb.
Learn More:
-Get program information and register to become a Certified Virtual Learning Coach.
-Read more about Why you need Virtual Learning Coaches on on your L&D team