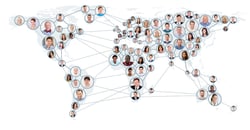 Classrooms no longer require four walls and desks. Thanks to virtual classroom platforms like Zoom, Adobe Connect, Webex, and more, training's reach now crosses continental boundaries. Alongside the possibilities provided by flexible blended learning design, new challenges emerge.
Experts strive to create equivalent training experiences in the virtual classroom. We want live online learning to meet or exceed the expectations of our learners and stakeholders. Purposeful instructional design contributes to our meeting this goal, as does first-rate facilitation. But as organizations become more diverse, the learning function must do more to ensure all learners in all locations feel engaged in and by the professional development process.
We have long pioneered best practices related to this complex design and delivery puzzle. Having worked with many multi-national global corporations, one thing became clear: we needed to take our virtual blended process a step further. Enter Comtec Translations.
A New Partnership
A recent press release announced the brand new partnership we have established with Comtec Translations. After meeting at the Goldman Sachs 10,000 Small Businesses program, the directors of our two organizations recognized that not only did our values align, but our service propositions complimented one another. In the modern learning environment, we recognize the value of collaboration in improving performance of multinational teams.
Comtec allows InSync to expand our virtual production support of transnational events through their robust bench of bi-lingual professionals. We can now provide our clients with access to producers who speak over 200 languages, ensuring that every group of virtual learners has an advocate in the learning environment that speaks their native language.
A Focus on Localisation and Translation
Investing in more targeted virtual classroom support marks an important step in engaging modern learners. In their report A Guide on Making the Case for Translating and Localising Learning & Development Programmes, the Comtec team shares stats from a survey by Forbes Insight and Rosetta Stone Business:
67% of learners "said a language barrier caused significant inefficiencies, a lack of productivity, weak collaboration, and poor engagement."
For 46% of organizations, "employees couldn't collaborate effectively" due to language barriers.
42% of corporations, "said employee productivity had gone down when communications were not delivered in native languages."
67% "said miscommunications contribute to inefficiency."
With productivity and efficiency gaps like these, organizations can't afford to ignore the value of training content localization and delivery translation. In fact, in the same guide, Comtec highlights the benefits of taking the blend a step further to promote these practices. Key takeaways that spoke to our vision of the future of learning include:
Effective implementation. Global training needs to meet learners where they are and eliminate barriers to engagement and skill application. Localisation and translation literally lowers the amount of mental effort international learners need to exert to understand the content. That's a mission we can get behind.
Staying ahead of the competition. We know organizations that invest in upskilling their employees can create competitive advantage in their market. Localizing learning resources and events to support all employee demographics indicates commitment to organizational excellence.
Delivering a consistent experience. Again, we truly believe that with proper design, implementation, and delivery, virtual classroom sessions can create more effective learning than the traditional face-to-face classroom. When considering global roll-out, we encourage stakeholders to ensure that no region receives favor over another. Comtec gets it right in observing that "by translating and localizing training content,…organizations offer a shared experience to all employees."
Looking Ahead
We continue to evolve our methodology to meet the needs of the modern workplace, modern decision makers, and modern learners. Supporting more equitable, engaging, and efficient training reflects our determination to set the standard for blended training. Step into the future of learning with us as we commit to making localization and translation commonplace in the classroom.