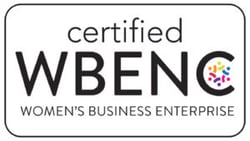 In honor of International Women's Day, InSync team members shared insights about working for a WBENC-certified Women's Business Enterprise.
From Jennifer Hofmann, Founder & President
Over the years, InSync has grown to have more than 75 team members. And right now, more than 65 of them are women.
We didn't start out to build a team of mostly women, that's the way it turned out.
It turns out, InSync especially appeals to women. They tell me that they like the flexibility of being able to create literally their own schedules. Some work during the day, some work very early morning, and some work overnight. This gives them the flexibility to take care of other things in their lives like children or parents.
It also provides the opportunity to work at home while maintaining a professional resume. The women especially appreciate the ability to identify ways to take care of everything they need in their lives.
I've learned that men appreciate the same things. They want to take care of their families. They want to find balance. We've created a culture at InSync where that's expected.
Maybe it was easier to do because we are a 100% virtual team. We don't have the visual cues that insist we are different from one another. Appearance is not a core competency on a team like ours, so traits like gender and race are not obvious, so initial impressions are made on the quality of work, not in any pre-imagined stereotypes.
This team, women and men, are there for each other. It's a collaborative team, that cares about the success of all of its individuals. Which is amazing because we don't work in the same place. Literally, everyone works from their own virtual office. But everyone still cares about supporting everyone else.
I think we probably have a bit of a different culture than if we were comprised of 65 men and 10 women. I do believe that women are capable of incredible things, but we, by nature or by nurture, bring a different perspective to the table.
Being able to enable women to be successful and to find their version of balance is one of the things I strive to do in my professional career. Mentoring young women is a personal goal of mine for 2018.
This week we celebrate International Women's Day. It's a time to celebrate women's unique strengths and recognize that women and men can be successful working together towards common goals. And we don't need to be afraid to discuss those common goals. It's a day to come together as people.
Fortunately for me, at InSync we do that every day.
From Vickie Hadge, Operations Manager
"Over the course of my career I have worked with many different companies of many different configurations; large and small, start-ups and established, mostly men and mostly women.
For the past twelve years I have had the pleasure of working with InSync Training, a woman-owned small business. Being a professional woman working with a woman-owned small business has not only been a joy, it has been inspiring and deeply gratifying.
In Rebecca Solnit's 2017 book "The Mother of All Questions" she states:
"For a century, the human response to stress and danger has been defined as 'fight or flight.' A 2000 UCLA study by several psychologists noted that this research was based largely on studies of male rats and male human beings. But studying women led them to a third, often deployed option: gather for solidarity, support, advice. They noted 'behaviorally, females' responses are more marked by a pattern of 'tend-and befriend.'"
In my experience I have found this to be true. In any business there is stress; working for a woman-owned business has shown me how the response to stress with a 'tend-and-befriend' approach can be beneficial to the company, the staff, and the clients."
From the Team
"I have worked in male-dominated workplace and am now fortunate to work in woman-led workplace. I recently read an article from Forbes that captured how I felt, particularly with this excerpt: 'These women are master multi-taskers and highly collaborative (though not afraid to get territorial to protect their domain). They enjoy their own space to test themselves and find their own rhythm. These women leaders are like scientists: many of them want to make new discoveries or solve for problems where others have failed. he women leaders I've been around don't stop pursuing until the job gets done.' What I've learned from experience, is that women leaders inspire you to work "with" them. Male leaders often created "work for them" environments. InSync embodies the 'work with you' spirit." - Robin Dye, Business Development
"I love working for a woman-owned small business, because when we outshine the rest of our competition, we are showing the world that women should never be underestimated. It's an ideal workplace with a high level of communication and no sexual harassment. There are no barriers to our growth." – Ellen Turner, Instrutctional Designer
"The most important thing I've learned from working for and with women is how to embrace my feminine side. I live in a house of all men, and my InSync colleagues have taught me how to balance. I learned how to let go and take a 'Spa Day' and enjoy a long weekend away from my family....and that's okay! The fellow moms/women have taught me that I can still be a good mom and wife AND be successfully professionally, as well as do things for myself!" – Jennifer James, Facilitator
"I love the flexibility and the camraderie of this job and team, even thousands of miles away from each other." – Sheryl Hawes, Producer
"When working for a woman-driven organization, support and flexibility are at the heart of the culture. Most importantly, working for and with women has taught me that in a world where competition is tough, kindness is a gift." - Virginie Chasseriau, Facilitator
"I value working for and with talented women who are exceptional thought-leaders and change-makers." - Mark Durgee, Facilitator
"I am grateful for the opportunity to continue to be a professional while taking care of other things that are important to me. Being a part of InSync has given me the ability to better integrate work and life without sacrificing one for the other and that is very important to me. " - Helen Fong, Producer
"I'm a firm believer that you can't emulate what you can't see. InSync's organizational culture empowers me to work hard, dream big, and remember that I am capable, and entitled to a seat at the proverbial table. To have the opportunity to grow and flourish in a woman-owned business so early in my career reaffirms for me that diverse, inclusive teams accomplish great things and my contributions are valid and valued. I'm eternally grateful that I work for and with a team in which my gender is not the primary focus; rather, the merit of my ideas and efforts matters most." – Katelind Hays, Marketing