Portsmouth, NH – InSync Training, a business specializing in Virtual Training Excellence and a certified Women's Business Enterprise National Council (WBENC) Women's Business Enterprise, is thrilled to attend the WBENC 2022 National Conference June 7-9, 2022, in Atlanta, Ga.
The WBENC National Conference, the largest conference of its kind for women business owners, brings together America's leading corporations, government agencies, women business owners and their staff, and strategic partner organizations.
This year's exciting program engages participants with dynamic educational programming, inspiring keynotes, a pitch competition, instant match meetings, networking opportunities, and an unrivaled Expo of certified women-owned businesses and those who do business with them.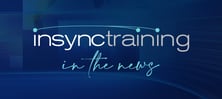 The WBENC National Conference will be a catalyst for opportunities and growth with thousands of women entrepreneurs and corporate executives ready to make connections, do business and collaborate to spur innovation.
"WBENC is all about empowerment, which is what exactly what I've observed attending the WBENC National Conference twice in the past few years," said Jennifer Hofmann, president, and founder of InSync Training. "The WBENC National Conference offers a unique and powerful networking opportunity for women to grow their businesses,"
InSync Training representatives are most looking forward to:
Exploring the bold WBENC network of powerful women and the ability to network and connect with some of the nation's most successful women-owned businesses and the corporations who are doing the most to level the playing field for women entrepreneurs.

The ability to share InSync Training's capabilities with corporations and government entities seeking women-owned suppliers, while connecting with procurement and supplier diversity professionals from many of America's most prestigious brands and the Fortune 1000.

Inspiring keynotes and innovative experiential learning opportunities that provide business owners and other professionals with the tools and resources to grow as leaders and innovators.
Visit insynctraining.com for more on InSync Training's industry-recognized public certifications, group certifications or corporate service solutions.
About InSync Training
Founded in 2000, InSync has 20+ years' experience supporting a variety of enterprise-wide virtual training programs for Fortune 50, 100 and 500 clients and have certified over 25,000 L&D professionals with its best-of-class approach. With a global team of 140 expert Instructional designers, researchers, and professional facilitators support clients' corporate training needs, including programmatic management and logistical support, traditional "train-the-trainer" services, blended learning, instructional design/development services, and facilitation/production services.
InSync Training is an IACET Accredited Provider and regularly supports 6000+ hours of live, online, virtual, blended, and remote instruction per month in Zoom, MS Teams, Webex, Adobe Connect, Kaltura and other virtual classroom platforms. Content is supported in 20 languages and dialects.