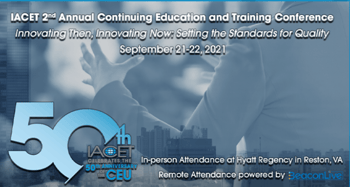 The International Accreditors for Continuing Education and Training (IACET) announces the line-up of speakers for the 2nd Annual Continuing Education and Training conference being held September 21-22, 2021 in Reston, VA.
Harnessing the industry talent of inspiring, innovative, cutting-edge, creative minds within the CE/T community, IACET has worked hard to bring together a strong, engaging group of presenters at this conference.
We would like to thank our LiveStream Sponsor BeaconLive, LLC, Diamond Sponsors ChildCare Education Institute and InSync Training, LLC, and Gold Sponsor Site Safety, LLC for their commitment and support of the 2nd Annual Conference.