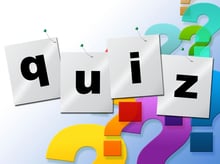 To be or not to be in the virtual classroom – is it still a question? With an increasingly global hybrid workforce, changing organizational goals, and emerging technologies, learning & development practitioners must know how to create engaging content and deliver learning in a live online environment that fits their learners.
If your organization is still trying to navigate rapid hybrid and remote work changes, you're not alone. Take this quick quiz to see if your virtual training strategy needs some support.
5 Easy Yes or No Questions
Is your business trying to navigate rapid workplace change?

Are you still using mainly PowerPoint slides and videos to train?

Do you have certified learning experts?

Have your learners and trainers experienced zoom fatigue?

Are you applying the latest in cognition, instruction, and neuroscience to optimize learner experience?
Assess Your Results
If you answered yes to even two out of 5 of these questions, it is high time we created a virtual training for you. Organizations are now clearly seeing that blended learning is here to stay, and virtual training is necessary for nearly every training situation. It is less about what can you put in the virtual classroom, and more about how creative you can get in the virtual classroom.
A Follow-Up Question: Have You Considered Your Employees?
Are your trainers and learners Ready, willing, and enabled and looking for more to be successful in this new hybrid environment?
At InSync Training, we use these three metrics to determine the likelihood of success of virtual training. Each qualification has a helpful question that you can ask to get to the bottom of whether your team of facilitators are asking for more when it comes to their virtual training.
Teams who are ready:
Understand the

online learner experience

.

Ask:

Have facilitators

walked in the shoes

of a virtual learner to determine what works and what doesn't work?



Understand the design.

Ask

: Has the design been altered to meet the needs of the virtual classroom and has the facilitator internalized the changes?



Master the technology.

Ask:

Are both the facilitator and the learner understanding and utilizing all the tools in the virtual classroom?



Practice managing the blend.

Ask

: Do the facilitators and the learners understand your learning platform?
Teams who are willing:
Believe in the effectiveness of online learning.

Ask

: Do the facilitators and the learners have a core belief that the virtual classroom can be effective?



Believe in the effectiveness of your online program.

Ask

: Do the facilitators and the learners believe that they themselves can truly be successful in the virtual classroom? Are they acting as change agents?



Be adaptable and flexible in developing the skills this environment requires.

Ask

: Are the facilitators and the learners just surviving through the hiccups of the technology and still adapting to the virtual classroom?
Teams who are enabled:
Receive organizational buy-in/support.

Ask

: Have you been provided the right environment, equipment, and attitude to succeed in the virtual classroom?



Set aside time to get ready and prep.

Ask

: Do you as a facilitator and a learner have the time it takes to prep and get ready for this virtual classroom experience (have you put your out of office on yet)?



Dedicate time to support the blend.

Ask

: Beyond the online time required to teach, do learners and facilitators have time in-between sessions to connect, read, and

reflect

about the learning experience?



Allow themselves the opportunity to decompress.

Ask

: What do the facilitators and learners need to have available to them to avoid

Zoom fatigue

and recharge after the session?
So…What Next?
If, after taking the 5 question quiz you've realized that your trainers and learners could use more when it comes to their virtual training, and your organization is ready for the switch, it's time to make the transition.
Revisit the process, chunk your face-to-face content down into lessons, activities, resources, and assignments. Then, determine what is need-to-know information and what is fluff or nice-to-know information.
All need-to-know information goes into the learning campaign. Anything knowledge-based goes into the resources and assignments either before, during or after the live classroom lessons. The nice-to-know information goes into the file resources as an option to be used for the learner that craves more.
Virtual classroom lessons should be a time where you pull learners together for a meaningful experience – a time for learners to showcase or apply knowledge gained and/or collaborate with other learners about given topics. It is important when looking for a virtual classroom to find one that offers tools within the technology that allow for connection, communication, and collaboration. All three of those "C's" are important success factors to determining if the virtual environment is right for you.
Final Words of Wisdom
It isn't about if you will upskill training in the virtual classroom, it is about when you will start. Understanding when to begin making the change, and how to do so, helps you support both your learners and your facilitators during the process.
Being a good virtual facilitator is about learning the skills and techniques of virtual facilitation, but being a GREAT virtual facilitator is about becoming an expert in the skills, knowledge and techniques to design and facilitate in the virtual classroom.
To gain the skills and knowledge to be an effective virtual trainer, please consider attending our Summer Immersion Virtual Learning Expert Sessions , which includes 30 hours of live instruction in just 5 days, and save $800 Off the Entire Bundle. Or receive 10% off individual courses.
Are you already a Certified Virtual Learning Expert™? Explore The Certified Virtual Learning Coach™ , an advanced program to help training managers and virtual function leads assist members of the training team in creating their own paths to virtual training excellence.