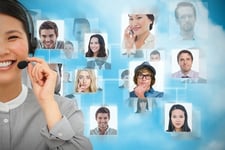 This is the first part of our guest blogger Susan Bassett's two-part blog post. The second post will be published Tuesday, February 27, 2018.
I've been presenting online since 2001. I've always felt a certain sense of excitement when working with top-notch trainers and producers in creating active, energetic online sessions. Terrific online professionals make choices about how they present which results in transforming distracted, impatient, and overwhelmed attendees into engaged learners. (Bersin). Ask dynamic, effective online trainers what their "secret sauce" is and you'll hear about presence, energy, passion and courage. And now, comes the best part, they are more than willing to share.
Connect with Presence
We all invest time and energy in the design and delivery phase; we spend time making sure the content meets standards, follows a logical flow, is engaging, the timing works for the design.
However, most "knock their socks off" trainers will tell you they spend just as much time thinking about how to establish and maintain their online persona. Like a good actor, they are intentional about nuancing to captivate the attention of the untethered online crowd. They sustain attention from the first virtual room warmer to that last polling question. They use their presence to promote learning and curiosity which becomes engagement.
Walk into an online room of one of these trainers and your senses shout out, "I want to pay attention to this person!"
One of the best, Tobi Lytle, says it clearly,
"Focus on an authentic connection with your audience and your value proposition. Why are your attendees trading their valuable time to be in your training experience? What do they want? Are you excited about what your content can do for these learners? Great! Then your energy will be absorbed as authentic enthusiasm. Authentic energy and connection with your audience and well-organized content work together like a symphony to create a memorable learning experience."

It takes energy to give energy. So, let's talk about energy.
The Online Truth about Energy
My certification experiences with InSync Training set the energy benchmark for an online session, whether it was 30 minutes or 3 hours. In those certification sessions, I learned that everything, and I mean everything, in a virtual session could be just as energizing as an onsite presentation!
Let's face it, most trainers are energized by being in the presence of learners. Sure, we can say generously, "Take what you need and leave the rest!" when presenting our content! However, there is part of us that wants to "feel or see" the learning happening – especially online. There is a real buzz when interaction is happening! And, most good trainers want to hear and feel that buzz. To create this buzz requires us to pay attention – in the moment – in the now – during the entire session.
One way to feed the online environment nonstop with energy is to optimize the chat feed. Personalize your responses to people by name, bring their ideas into the presentation, build on their ideas. Even more importantly, discover your own webinar voice and invite the learners to discover their voices. Use that chat like an invitation to a great conversation! Just as importantly, learn (how and why) to pause energy.
Pre-Session Mindfulness – Hit the "Energy Pause Button"
Yes, pause!

Before any online session, give yourself time to pay attention to yourself. As a fan of meditation and mindfulness, what works for me is to log on at least 20 minutes before and sit quietly – emptying my "monkey-mind." Or, if you prefer, put on some music and just listen. Whether Michael Franti or Figaro, treat your ears.
One client I worked with rolls out the yoga mat and does stretches. Another dials up his favorite dance music and lets it rip! A little out there, sure; try it, it works! Another found that opening the door to fresh air was a perfect pause. Another enjoyed bouncing up and down on an inflated sports ball. Another creative client uses laughter. Of course, you probably want to come in from the cold, quit dancing, laughing and bouncing a few minutes before you begin online!

This pause can also include starting the connection by looking at the list of attendee names (if you have it). Quietly imagine the participants walking into the virtual room! Always fun and a bit over the top when you have 500 participants! I'm always a bit surprised when I actually see participants on screen after seeing their names scroll by.
In-Session Mindfulness
Here's another suggestion: keep a cup of water nearby. When asked a question, pause for as long as it takes you to take a sip before answering.

Pause in the middle? Most great online trainers leverage a pause in the middle of presenting. Check out those ticking clock power points – a pause for you and your learners.

One top notch trainer adds a question in the chat space saying, "What else can we be doing for you?" and remarks on the answers to start the rest of the session.

Pause at the end – of course! And, this is usually when the poll comes up on the screen. Hallelujah! Breathe in, breathe out!
When you deliver your next online training course, how will you take the learning to the next level using your presence, energy and passion?