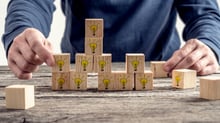 There must be an instructional solution between a one-hour webinar and a six-week certificate…
The virtual classroom allows us to create learning experiences that weren't available 20 years ago. We can space out lessons over days, weeks, and even months so that our learners can reflect on everything they've learned and practice those skills before returning to the virtual classroom to learn more. This is an instructionally sound approach, supported by research, that allows individuals to apply what they've learned and see a path forward towards mastery.
For example, InSync's primary training audience consists of professional facilitators, instructional designers, and virtual classroom producers. Most of these individuals are experienced in supporting traditional classroom environments and have a need to add mastery of the virtual classroom to their existing skill sets. For this group of professionals, multiple-week blended learning experiences with rigorously assessed final projects makes sense.
This intensive model works for most types of training when the intent is creating a path to mastery.
But what if the learner's goal isn't mastery?
What if, instead, an individual wants to be exposed to the fundamentals of a new skill and make a personal judgment about how (or if!) mastery of that skill needs to occur?
To go back to the example shared above, what if a subject matter expert needs to design a short training intervention and deliver it via virtual classroom? Or a trainer wants some basic skills to prepare for a potential opportunity sometime in the future, but doesn't have the time, budget, or need to go through an in-depth assessed program?
Typically, we try to make webinars serve this purpose – we cram as much information as we can into a 60-minute session and everyone, facilitators and learners alike, hope that this meets the need.
But, don't we all know that these short webinars are rarely enough to stimulate curiosity and inspire confidence that we have enough information about a new skill?
Stimulate Curiosity
What we need is a learning solution that's somewhere between a webinar and a complex, multi-week blended learning journey.
A solution that provides understanding and knowledge, and some practice, without pretending to promise mastery.
The solution should provide foundational skills and inspire confidence that the learners time was well spent.
Immerse Yourself in the Virtual Classroom
This December, InSync is introducing a solution to meet the needs of our clients with the introduction of our one-day Virtual Classroom Fundamental programs for facilitators and designers.

Created specifically for L&D practitioners who need foundational virtual classroom skills, each immersion:
Focuses on either facilitation or instructional design.
Is on one day, with six hours of live online instruction and self-assessment. 
Delivers meaningful training for only $750.
Offer continuing education units (CEUs) and a digital badge upon completion. 
You can now register for both the Virtual Classroom Facilitation Fundamentals and the Virtual Classroom Instructional Design Fundamentals immersion programs.