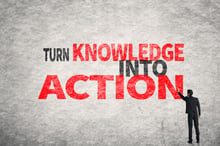 This month we've focused on the relationship between engagement and motivation. Chip Dye discussed how engagement is what keeps people in class, and I responded with a post that proposed learner motivation gets learners to class in the first place.
This month I've read articles, listened to podcasts, and filled up my Kindle. What really stood out is that I learned so much from other fields about how to motivate modern learners. I found this self-guided learning process engaging 😊.
I also learned that there is so much more to the concepts of motivation and engagement than I originally knew! It was an AHA! moment for me.
If you, like me, are interested in learning more about how to engage and motivate virtual learners, consider adding the authors, experts, and other resources below to your personal learning network. 
Book: Learn Better: Mastering the Skills for Success in Life, Business, and School, or How to Become an Expert in Just About Anything by Ulrich Boser. This author is a new addition to my personal PLN. One of Boser's concepts is something he calls the "Ikea Effect" – meaning that when we MAKE something, it creates "meaning" for us. Just telling someone learning about something is important is NOT motivating. Our learners need to identify meaning themselves. He reminds us also that doing something isn't the same as learning something. Interesting stuff….
Podcast: Hidden Brain - WOOP, There It Is! 4 Steps To Achieve Your Goals. Hidden Brain is my favorite podcast because it helps me to reframe a lot of ideas. This 2016 episode, featuring psychologist Gabriele Oettingen, author of Rethinking Positive Thinking: Inside The New Science Of Motivation, explores personal motivation, but there are strong applications to what we are trying to accomplish professionally.
It's different than what we have heard before:
"Those who have stronger, more positive fantasies about reaching their goals are actually less likely to achieve them. They lose fewer pounds, earn worse grades, receive fewer job offers, stay lonely longer, recover from injury more slowly."
The podcast, and presumably her book, is focused on developing a Wish Outcome Obstacle Plan (WOOP) to set up a regimen to keep ourselves motivated to change habits. Her website shares free tools on how to apply the process.
Infographic/Podcast Series: An Epic Guide To Student Engagement In The Classroom. I haven't started the 18-episode podcast series yet, but I enjoyed this infographic by A.J. Juliani. It summarizes five levels of engagement (as identified by Phillip Schlechty), regarding how students respond to school related activities: Engagement, Strategic Compliance, Ritual Compliance, Retreatism, and Rebellion. I think those levels apply to our adult learners as well, don't you?
Additional Resources from Around the Web
Virtually There Online Magazine: Looking to learn more? It's hard to keep track of all of the resources informing the modern classroom. We keep an eye out for trends and best practices by collecting links from magazines, industry experts, and social media and capturing them in our online magazine, Virtually There.
InSync Training has been interested in how to engage and motivate virtual learners for 20 years. And we've never been scared to share what we've learned. We've compiled many of our own resources into a toolkit that you can download below.