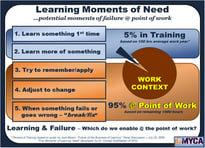 On June 22, 2015, Candice Kramer shared her insights into "Learning Across the Performance Spectrum," with the InSync BYTE series attendees. (Click here to view the full recording of the session.) During this session, Candice shared some key insights that deserve reiteration.
Learning Today
Instructional designers, your job is changing. Without a government designation for your role, you must often explain your relevance to others within your organization. Learners need information that is readily available and management expects your proposed learning initiatives to enable employees to do something tangible on the job. It's vital to accomplish these two objectives in order to demonstrate both your and your curriculum's value.
Additionally, with the emergence of new ways of working and learning, formal training just won't cut it anymore. The "use it or lose it" mentality and the Ebbinghaus Forgetting Curve clarify why learners need more than traditional formal training: as we learn new things, they crowd out what we already know that we aren't applying. Bottom line - instructional designers must find a way to extend learning beyond the classroom.
Learning at the Moment of Need
As Candice discussed, there are five moments of need. As we know, instructional designers and trainers traditionally focus on the learning event. However, this only addresses two (out of the five) moments of learning need: when content is new, and when there is a desire to learn more. Of the five moments of need she discussed, most organizations desire learning initiatives to fulfill these three:
When trying to remember/apply something
When things change
When a problem arises
Why do these three matter so much? Because when employees can apply training in these three moments on the job and quickly, they demonstrate the value of the training. When you know that the value of your learning program can be proven, then you just need to figure out how to incorporate those items into your design.
The Answer: Performance Support
Performance support is defined by the Performance Support community board as an "...immediately available, intuitive, intentionally tailored aid to a person at the moment of need to enable effective performance at every changing moment." Performance support allows you to become more effective with less because you provide learners with the information they need in their workflow, when they need it.
Designing learning around what learners have to do, rather than what they have to know, aligns to organizational goals and makes the L&D role more central to the business.
Candice suggested that to design with a focus on performance support, you should consider it as part of the learning strategy. Ask yourself, "What tools will people need at each of the five moments of need?" Don't forget to consider the context of both the performance tool you'll create AND it's delivery method.
Examples
Candice provided examples of performance support tools that she uses in each stage of the learning process. A couple of her suggestions included the following ideas:
Before learning takes place, supply attendees with a learning log or focusing questions.
During learning, access to a notetaking template can be very helpful for learners.
Storytelling is one way to help learners tie learning to experience, since people tend to remember stories more easily than facts.
Candice also suggested that when creating and selecting your tools, it might help you to think of them as a way to get learners where they need to go. By doing this, you help your learners chart their own course to mastery.
Resources
Candice also reminded us that learning professionals don't have to go it alone. There are many resources to support professional development in performance support, including Innovative Performance Support by Conrad Gottfredson and Bob Mosher, a guide for practitioners with strategies and tactics. Conrad and Bob also host an invitation-only community of professionals who use performance support methods. In addition, there is an annual conference co-located with mLearnCon, sponsored by the eLearning Guild.
Contact Candice
Should you wish to learn more, join the performance support community or have additional discussions, Candice would be delighted to hear from you. She may be reached at applylearning@icloud.com or on Twitter @CandiceCPLP.