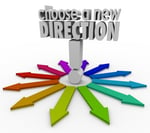 Blended learning provides a thoughtful solution to outdated, formal training. With blended learning, we can support learners when and where they need information – even when they're between live learning events. In spite of its popularity though, blended learning isn't descriptive enough to help us move towards more purposeful instructional design.
Jennifer Hofmann's BYTE session, The Right Stuff: Are You Designing Courses or Learning Experiences? explored our new design direction: learning campaigns.
Learners loved the idea: they recognized the concept as one that would close gaps they see in their learning functions. This blog provides a high-level recap of a learning campaign, as well as answers to common questions learners posed during Jennifer's event.
For more insight into the instructional design process, the importance of learning hubs and pathways to modern learning, and more, watch the replay recording here.
Learning Campaigns: An Introduction
Perpetual learning assumes that learning takes place all the time, not just in our formal box. We want to be able to address all of those formal moments. When you're designing a learning campaign, start with designing a formal solution, whether it's face-to-face in a classroom, or live online virtual learning. When creating that program, think about how people will use those tools shared during the course back on the job. Think about teaching a class without a participant guides, and replace it with job aids and videos. Use them to teach the formal content. In practice, instead of saying, "turn to page 48 of your course handbook," you'd leverage the microlearning tools by saying, "Let's stop and listen to a two-minute podcast."
The beauty is that instead of teaching a class in a day or week, it can be any length of time. Your campaign will include all of the resources for a particular topic, and will connect the dots between the content, making them available in all moments of learning need.
Jennifer used a four-week campaign as a tangible reference:
"The first week is the knowledge basics you need about the subject. Learners have access to a blog post, infographic, video, interactive eLearning course, and curated resources. A course map walks us through the program, and explains 'this is what you need to do this week.' There's a recording and live events and social learning in a collaborative way.
Week Two gets into more application. We define learning objectives, and address them with a podcast, blog posts, job aids and videos, for example. Week Three continues the application with intensive hands-on learning makerspace opportunities.
The campaign wraps up with Week Four, during which learners create defined assets or complete a project and receive peer feedback.
In learning campaigns, every time we provide a tool like a video or interactives, we define the relevance and importance of the resource, as well as the time involved in working through the content."
Each stage of the learning campaign moves up Bloom's Taxonomy. And the great thing is, you can create individual learning pathways. Jennifer elaborated:
"If you're a manager, you may not need to know how to gamify a course – so you don't need a workshop. But you do need to understand what gamification is, and whether or not you need to invest in it. And you might only create a learning path that addresses those needs. It's using the same language as everyone else's, delivered at the same time, but you only use what meets your needs. If you need something else later on, you can refer to the campaign later, because the learning is perpetual. The hub (which is where the campaign lives) becomes your Google."
Modern Learning FAQs
Is an infographic similar to a job aid?
They can be the same, but they can also serve different purposes. An infographic might be a reminder of content or it might guide you through a process –the five steps involved in changing a tire. When I think of a job aid, I usually think of something more immediately applicable. So, it might be a worksheet where you fill things in, or really step-by-step with much more detail. What I might do is have an infographic that says, "Here are the five steps to help you remember this process." Five at a high level with pictures and keywords (visuals) and then you have a job aid that you actual complete – a worksheet or checklist – maybe that's not enough. You have a blog or article that explains how this works. Different levels of information based on what the learners need in that moment.
I develop training for the military and we have a course that we're trying to recreate it from online because it hasn't been updated. The problem is that we're trying to get 40 hour classroom training to two week online course, so it seems overwhelming sometimes to develop something like this.
Two weeks is still intimidating. Do we make it two weeks so learners finish it? Or make it four weeks so it's comprehensive, but risk loosing momentum? People at the end of the four weeks might be exhausted. This is a balance we have to find with the content.
Our issue is that we aren't good at protecting that informal learning time. Many organizations don't explicitly say, "You can sit at your desk and learn for two weeks out of the month because that's as important as your job." These are challenges in blended learning now.
We don't want to recreate existing content, but rather, create pathways with recommended schedules and determine how much credit is issued for each pathway. It's a strategy, but if we take advantage of the fact that people are trying to learn this anyway, have them come together, start small to show them it's something they can do and come back to and use the same design techniques for other courses.
One "getting started" suggestion: create these pieces of courses and teach it in the classroom. Instead of giving them a participant guide, give them microlearning. Develop and deploy the learning campaign pieces in the classroom – that way they'll use the tools in the other moments of learning need.
Is this all still supported by a learning system? Can you track collaboration?
An LMS will help you do the tracking. We're a small organization and don't have an LMS. Many are using xAPI which starts to track how often people interact with something and for how long (watch a video for example). An LMS helps in a larger organization. That's what xAPI is supposed to do, otherwise it's hard to track. It's an automation problem – if you have 200 or 2000 people participating, it's hard. But it's also important to remember that informal learning, like social collaboration, doesn't necessarily need to be tracked.