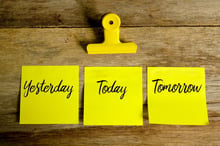 The InSync Training team has designed, delivered, and produced live online training events for over 20 years. It's hard to believe that organizations have had the virtual classroom as a learning environment option for over two decades.
Change underlies this now-commonplace technology. Virtual classrooms from the past look very little like the reality of today, which indicates a radically different future.
So what can we learn from the evolution of the virtual classroom?
The Virtual Classrooms of Yesterday
The virtual classroom started as an exciting opportunity that did not meet expectations. In the mid-1990s, we referred to this new technology as the 'synchronous' classroom. Their newness meant that most people had never even heard of them, let alone attempted to create or facilitate virtual training.
Those L&D professionals who HAD heard of virtual learning, though, were very excited about its potential. Early advocates predicted that, once adopted, we would never have to step foot in a traditional brick-and-mortar classroom ever again. With trainers, learners, PowerPoint slide decks, and these new virtual classrooms, the stage seemed set for complete training and development disruption.
But, as everyone discovered, we needed more than the raw components of a training program if virtual classrooms were to work. The plan to simply drop existing content into a new format fell flat. Trainers with experience felt out of their depth and frustrated that their existing skills did not automatically or easily translate to the virtual classroom.
The Virtual Classrooms of Today
Despite a rocky start, virtual classrooms are here to stay. And for learners with negative past experiences in this learning environment, they don't love the idea of building skills here.
After 20+ years of slide-based lecture and minimal interaction and collaboration, an entire community of learners simply don't believe that learning online provides effective training. And they certainly don't believe it offers an equivalent experience to the face-to-face classroom.
Nowadays, delivering impactful learning in the virtual classroom is not a technology adoption issue anymore. It's a change issue. Facilitators are leading the change against these preconceived notions.
To change these perceptions, we need to deliver highly engaging and more effective programs that focus on results.
Facilitators serve as the vanguard for this new norm.
The Virtual Classrooms of Tomorrow
The potential of virtual classrooms is limitless. As designers better understand the neuroscience behind true skill building, organizations invest in personal learning campaigns, and learners become more comfortable with technology in their day-to-day lives, virtual classrooms can truly come into their own.
Facilitators enable this potential – they deliver the content with purposeful collaboration; they can support the entire blend from start-to-finish; they can connect with their learners on a deeper level.