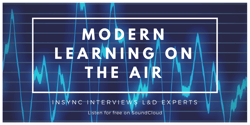 Learning professionals wear many hats. Depending on the task at hand, we may throw on our "instructional designer" cap, "project manager" beret, or "facilitator" fascinator. But did you know that we also need a "marketing" bonnet?
According to Daniel Foster, Strategy Lead for the Snagit Application at TechSmith, "the best learning professionals think like dirty marketers."
By applying concepts from marketing into our training programs, we can prove the value of our learning experiences to our learners. We spend time conscientiously planning the design and delivery of our corporate learning initiatives, but we rarely have the bandwidth to position our programs so learners feel compelled to spend their limited time in learning with us.
Our learners' most precious commodity is attention. In a distracting, overwhelming, tech-driven world, how do we draw their attention to our training programs?
Phylise Banner, host of Modern Learning on the Air, talks through a process with Daniel on this insightful podcast episode. Listen and learn:
The definition of learning pro as dirty marketer
A six-step framework for gaining learners' attention
How "what's in it for me (WIIFM)" and curation play a key role in modern learning
The inherent power of learner curiosity
Like every episode of the Modern Learning on the Air series, this podcast embraces the spirit of the modern classroom by being available for free as on-demand, on-the-go learning.