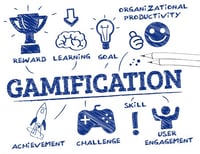 Today, both large and small companies have various options when it comes to corporate training programs and training their staff. From using innovative technology with integrated rich media, to microlearning and mobile apps, the types of training styles are unlimited. One of these learning styles (and a trending topic in L&D) is gamification, which takes gaming principles and mechanics and applies them to a non-game experience. When gamification is successfully implemented into training programs, it can help employees effectively gain new skills and develop new behaviors, all while being engaged in the process.

However, because gamification is relatively new and trending, some companies remain skeptical of implementing this type of learning. Here are six myths pertaining to employee learning and development through gamification and the real facts behind them.

Myth: Gamification is all about badges, leaderboards and points
Fact: Gamification gives learners feedback

Though badges and points can increase initial engagement, that's not the ultimate goal of gamification. In fact, some gamification examples don't use badges, leaderboards and points at all. Think about it, you don't play a game just to earn badges and points - the goal of any game is to master and overcome the challenge and competition to win. Gamification follows that same logic.

In reality, the key to a successful gamification program is the amount of feedback given to the user. Users need checkpoints to know if they are on the right track towards gaining a new skill or understanding new concepts. Whether these checkpoints involve meeting with managers one-on-one or leaving a comment within training program sections, it can help both the employer and employee stay on the same page, as well as spot issues early on.

Myth: Gamification is less effective for corporate training
Fact: Work relates to gamification more than we think

Some companies fear that by including gaming elements, it will make the program less effective by putting more emphasis on the competition than on the learning. However, it's important for organizations to see the gamification elements in the workplace. Greg Toppo, veteran education reporter and former teacher explains, "I'd make the case that adults often misinterpret their own play. When they're playing games, they're really working hard, but they just don't see it. If people could understand one very basic thing, it's that this is a tool that has the potential to make school a more rigorous place. Then I think they'd sign on the dotted line."

Myth: Gamification only appeals to Millennials
Fact: Gamification can be personalized to anyone's learning style

Whether due to its trendy nature or increasing popularity with Millennials, gamification sometimes alienates older employees in the office. But it shouldn't. Gamification, in fact, can apply to all different types of learning styles. Work with employees to see what does and does not work for them. As an organization, find gamification programs that help employees engage in the learning process.

Myth: Gamification only improves extrinsic motivation
Fact: Gamification, when done right, should offer a balance of extrinsic and intrinsic motivation

Many people may think that by making learning and development a game, it only focuses on extrinsic rewards, which will slowly have a negative impact on intrinsic motivation. Worse, a focus on extrinsic motivation can decrease intrinsic motivation overall. That's why it's important to have a gamification learning program that is a good mix of extrinsic and intrinsic motivation. Plus, both types of motivation used together, leads to positive work engagement, happiness, and creativity. Kendra Cherry, author and educator explains, "Experts also suggest that people are more creative when they are intrinsically motivated. In work settings, productivity can be increased by using extrinsic rewards such as bonuses, but the actual quality of the work performed is influenced by intrinsic factors. If you are doing something that you find rewarding, interesting, and challenging, you are more likely to come up with novel ideas and creative solutions." When gamification is challenging and designed to increase intrinsic motivation, learners obtain better learning outcomes.

Myth: Gamification places more demands on employee/employer time and resources
Fact: Proper design, including mobile gamification, can leverage time effectively

Because gamification is a different type of learning program, employers fear that the participation in the program will eat into employee's time and resources during the workday. But as technology continues to become more innovative, so will gamification programs, as most can be used on employee's tablets and phones. This is also helpful for remote or traveling employees who are always on the go. In short, with these mobile programs, it gives employees the freedom to create their own schedules of when to do the training.

Myth: Gamification and games are the same
Fact: Gamification uses some gaming elements

Lastly, gamification is not the same as a game you play with your friends and family. The key difference is games are made to entertain and pass the time. Gamification tactics, on the other hand, help users learn new skills by using some gaming elements, like quizzes at the end of each section. Furthermore, the gaming aspect is only a section or piece of the learning program overall.

As you can see, gamification is a great learning and training source for your employees to keep them further engaged and motivated to develop within their jobs and careers.