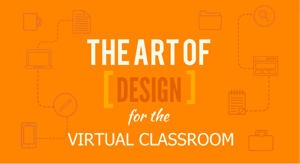 In 2020, we are sharing the lessons we've learned about the virtual classroom over the last twenty years, and we'll link back to our more detailed content around these topics, in case you want to learn more!  Take a peek at the entire Lessons Learned series by clicking here.
For decades, the virtual classroom has been used to simply present information in a webinar-type format. Because of this, there is some debate around the concept of the virtual classroom being a space where true learning can occur. 
But we KNOW that true learning can absolutely occur in the virtual classroom. It takes a nuanced design approach to be successful.
Lessons Learned
Focus on relevance and authenticity. Adult learners have very little tolerance for content and activities they perceive to be "nice-to-know". In the traditional classroom, they have to put up with it. In the virtual classroom, it is easy to disengage. It's also easy to walk away! Virtual designers need to make sure that the relevance of every point is clear, and activities are as authentic and relevant as possible.
Engagement is more than interaction with technology. We haven't adequately done our jobs as designers by including an occasional poll or whiteboard exercise. Engagement is made up of interaction with technology AND collaboration among people. And we can engage our learners environmentally, intellectually, and emotionally. We need to consider all of this when designing for the virtual classroom.
The slides are the least important part of your virtual classroom design. If you are relying on your slides to keep them interested, just make a recording. Live learning is about the people and the experience. Practice activities in breakout rooms, meaningful debriefs, and open discussions are what makes showing up meaningful to learners.
Engagement every three to five minutes is just the beginning. We first introduced the idea of having learners share something every three to five minutes 20 years ago, and that has become industry standard. But what are they doing? Just answering a poll or raising a virtual hand does not mean someone is learning – it's got to go deeper. Every action, and reaction, has to be anticipated in the design.
Four Steps to Design Success
I don't mean to simplify what should be thoughtful process by implying you just need to follow a four-step checklist. However, combined with the instructional design methodology you are already applying for your traditional classroom programs, this is a great place to get started.
(Related: You can read about this process in detail here. Download the infographic The Art of Design for the Virtual Classroom for a visual reminder of this design approach!)
Identify Instructional goals and performance objectives.
Determine potential assessment needs/techniques for each objective.
Determine if collaboration would improve the learning outcomes. 
Determine if the virtual classroom is an authentic training environment.
Here is my Key Takeaway: Most virtual classroom sessions are designed as webinars rather than learning opportunities. We focus more on distributing content then on insuring learners leave with new skills and behaviors that have been practiced and assessed. For 20 years, many of us have relied on the technology to do the work for us, and ignored instructional design in favor of packing as many slides into a session as possible, and hoping that the message sticks.
This is not a strategy that works. In the virtual classroom, the absence of a designed program is even more apparent than it is in a more traditional approach. If your design doesn't immediately demonstrate the value of participating live (practice, assessments, collaborative exercises, etc.), learners will mentally (and often literally!) opt out and promise themselves they'll watch the recording when they need this content. But they probably won't.
(Related: Read Not Another Recorded Webinar! How to Use Virtual Classroom Recordings)
Next Steps
Interested in learning how to design for the virtual classroom? InSync Training has an accredited certificate that is right for you.  Enroll for a public class, or contact us to discuss a schedule for your team.
Design Fundamentals: One Day Immersion Discover and practice key virtual classroom instructional design skills in one day of hands-on training!

Virtual Classroom Design Mastery Series Explore the design models that provide authentic virtual classroom learning, and work through hands-on application of engagement, interaction, and collaboration approaches.