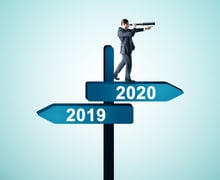 Like every year before it, 2019 proved game-changing, awe-inspiring, and insightful.
With only a few weeks left until a new decade, our team felt nostalgic.
What did we learn in the last 365 days? Quite a bit, and we're sure you did too.
We Embraced That the Classroom Has Become Global.
Our classrooms, companies, workforces, and personal learning networks have gone global. Continental boundaries and different time zones no longer place limits on who can participate in corporate training programs.
But do we need to advocate for taking learning programs global? Absolutely! Since different countries operate on different schedules, and technology varies at regional offices, adjusting existing learning programs for global delivery improves success tremendously.
In the first Virtually There session of 2019, Jennifer Hofmann shared the winning formula for virtual and blended training success. When it comes to global training success, a foundational combination of content, people, and connections between the two must exist. Getting the chemistry right starts with a strong plan and a thoughtful approach.
Understanding changing classroom dynamics revealed another important learning lesson of 2019…
We Moved Beyond the Basics of Learner Engagement.
This year, cutting-edge research by the InSync team revealed that learner engagement requires more than point-and-click interactivity. Learner-centric training programs aim to create three types of engagement:
Learners need to feel a sense of safety and well-being to fully connect in a session. Training must teach what learners want to know to do their jobs. Participants want to learn where they feel comfortable with the technology.
Designers should align their modules to business goals and these foundational engagement techniques. Facilitators can deliver content in a way that encourages these three types of engagement. Producers play an important role in creating a welcoming, supportive virtual learning environment.
We Advanced the Art of Virtual Facilitation.
For over two decades, virtual classroom platforms have offered an alternative to face-to-face training programs. And though it took a while to hammer out "what good looks like" for live online instruction, most people agree on the basics of successful virtual facilitation. Instructors need to consider the technology, available tools, and their instructional partners.
But, because the classrooms themselves have evolved, so, too must the facilitation approach. Virtual classroom tools should not only support communication among learners but also promote emotional engagement. The goal of instruction should be to maximize application and critical thinking, not overwhelming content lecture. And facilitators need proficiency guiding learners through multiple learning environments, rather than specialized skills.
Global blended learning offers flexibility but requires purposeful professional development. And in addition to structured skillbuilding…
We Recognized the Importance of Partnerships
Both in and out of the classroom, personal learning networks (PLNs) generate tremendous value. By collaborating with them, we can find trusted answers to our questions, solutions to our problems, and innovative ways of doing things. Thanks to LinkedIn, we have a structured way to contribute to and connect with people from all parts of our PLNs.
InSync's very own PLN shared some very helpful lessons in 2019, including:
Partnerships and friendships grew from our personal learning networks, and for that reason alone, 2019 is one for the books.
We look forward to ending the year on a high note, and discovering what the modern classroom has in store for us in 2020!