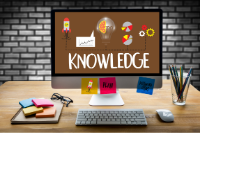 Wait a minute...
With the unexpected arrival (at least at a much greater level) of teleworking and online teaching due to the Covid-19 pandemic, many trainers and facilitators have struggled to find the most suitable solution to deliver their classes to their students.
This boom in live remote learning has caused much debate about whether or not platforms help facilitators meet the expectations of their own students (and themselves) or whether online teaching is less stellar and effective than face-to-face classes.
Undoubtedly, many facilitators will try to find "easy" or "quick" solutions to solve this inevitable change that came rolling in like an avalanche. Some will simply use a basic online meeting account to teach their classes online. But at this time when it is already a trend that many physical schools or workplaces will remain closed for an indefinite time, the rules of the game have changed. Facilitators must now adapt to a better way and require both companies and colleagues to utilize tools and technology that work effectively while keeping their students engaged.
Guilty or not?
We have found that some facilitators (not all) feel that online tools are to blame for scarce or ineffective training that exists in companies or organizations, and they tend to convey that vibe to their students. We do not share that opinion. Face-to-face classes can be of equally low quality and there are no online tools to blame in these situations.
Here are 10 reasons why online teaching could be failing and not because of virtual tools or platforms:
Believing that online tools make us superheroes and that the virtual platform will do the magic: this opinion can cause adequate instructional design of online classes to be overlooked.

Generating unrealistic expectations that in the end you will not be able to fulfill. It is better to be honest as in the end the students will realize what is going on.

Blaming issues that are not technical on the fact it is an online session: Don't be that person who blames a mediocre session on the invention of the internet. Starting a session with 'well we used to do it in person, and it just isn't as good when we do it online' doesn't make for a good impression for participants who are there to learn.

Lack of knowledge of the platform and how it works: failing to understand the platform and/or not using producers to provide both technical and facilitation support to participants and yourself.

Thinking that the online class ends at dismissal time and not having a clear strategy to transfer knowledge and check its transfer before, during and after the session.

Making the online class a monologue: remember that although it is true that there is no 'physical classroom', there are people on the other side of the monitor, and it is better that the students also participate and that classes are interactive.

Not converting content from physical classes, just using it without conversion: there are many additional tools that can be used to assist in effective learning online - polls, quizzes, and other interaction in the main session, along with case studies and breakout groups.

Insufficient interaction: closely linked to the previous point, people need interaction to stay involved and maintain their attention. We recommend an activity or change in activity typically every five minutes.

Creating the most beautiful and complex design of slides, etc: it will be useless if it is boring, with mediocre content and where relevance and importance is scarce. Keep it Simple and Straightforward (KISS) – Content is king.

Not taking feedback seriously: learning to listen to the learners is very important, and a good rule is to always evaluate online delivery and adapt because of it. Otherwise, you run the risk of not improving and continuing to believe that the course is effective.
If your organization is really looking to innovate or change its online teaching strategy, do not hesitate to contact us. We offer a full range of programs and services including Instructional Design, Virtual Classroom Facilitation, and Virtual Classroom Production to ensure your live remote training has maximum impact.