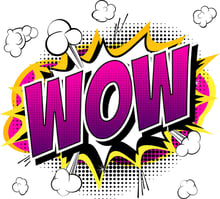 Virtually There Session Recap
Grabbing and keeping learners' attention remains steadfastly at the top of the priority list for most trainers. Distractions abound in and out of the classroom – what can we do to provide the most interesting, engaging experience possible?
Expert Sharon Bowman believes Brain Science holds the answer. During her recent Virtually There session, Sharon shared six fundamental brain science concepts she relies on to teach memorable and impactful events. (Missed her live event? Click here to watch the replay).
And one of Sharon's recommendations reminded me of a classic fashion tip: add a pop of color.
Different Trumps Same
The sixth brain science principle Sharon explored reminded us that in the learning environment, monotony leads learners to tune out. But when we switch things up, even in small ways, our learners sit up and notice.
Eric Jensen, an educator and brain researcher, says that "any stimulus introduced into our immediate environment which is either new (novel) or of sufficiently strong intensity (high contrast), will immediately gain our attention." What does this mean in layperson terms?
Sharon broke it down, explaining:
"Our brain is hardwired to pay attention to new things in the environment or that are in contrast to what we have experienced or what we expect."
Thankfully, we do not have to redesign all of our face-to-face or virtual training materials to include actual bells and whistles. Simply adding well-placed bright colors throughout the content can offer enough of a change to change the game.
These three easy changes offer the opportunity for quick, but powerful updates:
Provide learners with colored paper, instead of plain white printer paper, on which they can write their key takeaways.
Leave vibrant sharpies on team tables for memorable sketch noting.
Change up the font color on your slide deck to draw attention to key points.
You can also take your training agenda to the next level by leveraging color. How? Sharon mentioned that one of her instructors had the genius idea to "take the whole printed agenda for a 2-day training, broke it down into individual components, and put them on a board so learners could see where they are in the process by looking at colorful photos and post-its." Sounds a lot like a campaign map come to life!
One More Reminder
We can't always get our learners to pay attention. We can ask them to engage in oxygen-circulating physical movements. We can invite them to collaborate with their training partners during a pair-and-share activity. We can bedazzle our training handouts with glitter. We can do all the right things from a brain science perspective and learners may still disengage. The goal, Sharon smartly pointed out, "When you use interactive strategy and pique curiosity…. Everything draws them in to pay attention. There is a good chance learners will do what you ask them to do." As trainers, our responsibility lies in setting learners up for success, encouraging them to engage, and ultimately allowing them to make their own decisions about the relevancy of content to their personal needs.