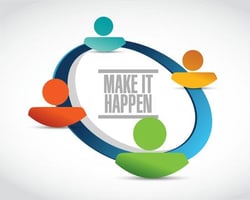 Blended learning incorporates a variety of ways to deliver learning materials and activities, and selecting delivery approaches is part of the instructional design process.
The approaches you select will depend on who the learners are, what objectives have been developed, what methods of assessing learning you have designed in alignment with those objectives, and whether or not collaboration will enhance the learning experience.
After establishing all of that, we still need to decide where, when, and how this blend of learning is going to be delivered.

Device vs. Mode of Delivery
Blended learning can be delivered to a multitude of devices through a multitude of modalities. It is important to understand the difference between the two.
A device is what a learner uses to access and participate in learning — a computer, tablet, mobile phone, gaming device, virtual reality headset, and the like. The delivery device does not need to be the same for all learners. We know, in fact, that modern learning takes place on a variety of devices within the same mode of delivery!
A mode of delivery is the method used to deliver learning — a live lecture, presentation, webcast, workshop, self-paced instruction, group project, virtual breakout room, podcast, video, and the like. Often the mode of delivery is considered alongside where learning will take place (in-person, online), and whether or not collaboration is appropriate.
As an example, blended learning delivery can consist of self-paced instruction that is accessible on a computer, tablet, or mobile phone. It can also consist of interactive simulations using a virtual reality device or desktop application.

Blending Delivery Technologies
Blended learning can also be delivered using a variety of technologies, which need to be considered alongside delivery modes as well as delivery devices.
It is extremely important to select the mode of delivery associated with each learning objective before selecting the technologies you will be using to deliver blended learning! Even if you have a webinar technology available to work with, it may not have the functionality needed to support learner achievement.
Properly implemented blended learning technology solutions can be powerful assets, as long as the focus stays on learner success throughout the technology selection process. An emerging technology application may seem like an innovative approach, but if it is too difficult to use it becomes an obstacle to learning.

Timing is Everything
Blended learning is designed to remove obstacles from learning, by offering learners options related to where, when, and how learning takes place. As we explore the design of "where" and "how" learning will take place, we need to also answer the questions of "when?" and "for how long?"
When you move from the design phase to the development phase of your blended learning solution, the answers to those questions will surface. The selected modes of delivery, intended devices, and associated technologies will help determine these timing factors.