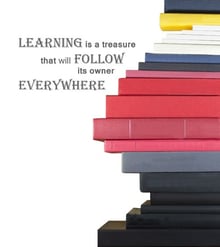 BYTE Session Recap
Today's Learning and Development professionals know that 90% of learning takes place outside of formal training events. How can we ensure that our learners continue to learn effectively, even when they aren't enrolled in our structured programs?
On May 3, InSync Training friend and learning leader Elaine Biech explained how to make learning active beyond the classroom. Her extremely popular BYTE session discussed the 70-20-10 model in detail, shared 101 ways to implement learning outside of the classroom and suggested useful resources for continued attendee education.
This blog post will provide an overview of Elaine's explanation of 70-20-10, and her answers to participant questions posed during her session. To review all of the wisdom and advice shared by Elaine, access her full BYTE recording here.
70-20-10: A History
Elaine kicked off her session with a brief history of the 70-20-10 model, which was created in the 1980s by Michael Lombardo and Bob Echinger. Because of its recent resurgence in popularity, Elaine called Michael to discuss his model's origins.
Elaine asked, "What gave you the idea that this would be important?" She received the following reply, "We wanted a device to get people to begin to think about development. If you think about it, in the 70s, training was really a huge element of everything that we do, the most important thing. But no one was really thinking about the other ways that we develop work. We needed something to get people to think about development. We did some research, compiled the results, and that's where the 70-20-10 came from."
70-20-10: The Details
Elaine explained that when it was introduced in the 1980s, the 70-20-10 model posited that learning occurs in the following ratios, "70% from on the job assignments, 20% while learning from others, and 10% during new formal content. And while you may see different wording for each percentage - like 70% means practice, 20% means people, and 10% means programs - the model's fundamental definition won't change."
Elaine provided example formats for each ratio to clarify the real-world applicability of this well-respected approach.
On the Job formats (70%): solve problems, cross-functional activities, rotational assignments, and community or volunteer activities.
Learning from Others formats (20%): mentoring and coaching, online professional communities, blogs, 360 degree feedback.
Formal Content formats (10%): courses, seminars, workshops, eLearning and virtual modules, certificates, reading.
Elaine emphasized, "There's lots of cross-over between these categories. While the lists aren't perfect, we can begin to see what goes into all of the categories."
Q&A
Throughout the BYTE session, Elaine answered a number of attendee questions, including:
I'm perfectly happy as a trainer. Why should I worry about this other stuff?
"The biggest reason: you don't want to become obsolete. I'm sure you've heard of the VUCA (volatile, uncertain, complex, & ambiguous) world, and that our jobs are changing. Because we're in this VUCA world, corporate jobs and expectations are changing rapidly. There's a demand for capable talent and we need to spread that development everywhere at all times. Many of our learners need to get online and learn when they find a moment. This is a great opportunity to learn. By 2020, more than half of the workforce will be contractors or consultants – you may be one or who you are training will be. You will need to bring these contractors or consultants up to speed very, very quickly. You won't have time to bring them into the classroom. It's already happening. There are lots of things happening with our jobs. How we perform our services is going to change. We're going to need to coach managers and they're going to become the new Subject Matter Experts (SMEs)."
Do you have any suggestions for shortening content?
"Go out to the managers and supervisors and find out exactly what they want their people to be able to do and come back from training with. One of the most important things is teaching people how to learn. We can't spoon feed them everything along the way."
How do I convince management about this?
"You don't have to convince them to get people up-to-speed faster. Your organization needs practices that make people productive sooner. All of these things can do this. Remind your managers that people learn from experience, managers share experiences of their team with each other and create opportunities for that, and experience coupled with reflections really is what's important in terms of lessons in participants' memories. You have to work through your managers."
Does the 70-20-10 model adapt to microlearning, which seems to be so popular right now?
"Microlearning, to me, feels like it fits under the 20%, not 10%. The way we're doing that is shooting information out on smartphones, as opposed to bringing people into a classroom. It feels like you need to give the 'content dump' you want people to learn and expect them to take it to the next level and create the social learning for themselves."
What are the most surprising things that you've learned over time about learning to learn?
"I guess the biggest learning I've had is that everyone doesn't want to learn. I was pretty shocked at that, because ever since I was one, I wanted to learn more information. People don't necessarily have that same innate desire to learn. The important element for that goes back to Adult Learning Principles. One of them is to make sure that your participants understand why they need the information, and how it can help them solve a problem and what's in it for them (WIIFM). That is critical. If you can hit on that, and help people understand their job will be easier, they will want to learn .That maybe seems like an ultimate kind of goal, but I was really surprised that everyone didn't want to take advantage of learning. When I dug into it, it's partially because people haven't had good experience in school – maybe they were called out on their errors. Those experiences stuck with them. When a participant walks into a classroom, we need to make them feel safe and welcomed so they flip the switch and get what it is they need to learn and why they need to learn this information."
For additional resources, and more expert insight from Elaine, watch her full BYTE session recording here.