BYTE Session Recap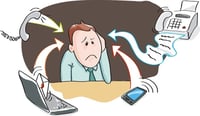 Today's workers, and by extension, our learners, often feel burdened by technology overload. Always connected often means "never unplugged." How, as both practitioners and people, do we untangle ourselves from the sticky tech web, and make real connections?
Kittie Watson, former Chair of Tulane University's Communication Department and Founder of Innolect, discussed this exact problem with BYTE session attendees recently.
This blog defines technology overload, the benefits of unplugging from our devices, and how, as a leader, you can encourage smart technology usage for your team.
Access Kittie's full BYTE recording to learn about the connection between dialogue and employee engagement, how to encourage listening, dialogue, and conversation to address a company's pressing challenges, and apply techniques for getting back to communication basics.
Identifying Technology Overload
Technology allows us to connect with one another in unprecedented ways – on social networks, via easily accessible emails, and apps like Skype – and on seemingly limitless devices, like phones, tablets, and computers. Information flows freely and we can learn about anything on-demand. This access, while largely beneficial, also causes the unpleasant sensation of technology overload.
Kittie explained that the feeling of missing out when disconnected from our devices and the drive to constantly check our devices, even when they don't buzz or beep, form the basis of technology overload. These symptoms take a toll on us personally and professionally. Families face high levels of boredom, sadness, aggression, and irritability when not engaged with technology. Furthermore, face-to-face communication skills suffer for children and adults alike as a result of extensive technology use.
Employees struggle to balance the convenience technology provides, with the consequences associated with it. Research reveals that constant access to technology diminishes our attention spans, impairs our ability to learn, and requires distracting and continuous task switching.
Our dual-sided positive and negative response to technology, Kittie explained, comes from our biology; more specifically, from high dopamine levels. Because we get a spike in dopamine when we receive a text or check our devices, we have become addicted to doing so. As Kittie explained:
"There's something about checking our devices that ties us and makes us want to participate in some way. We want more and more…if dopamine is a pleasure signal for us, then we are letting technology dictate what we do and how we do it."
The Benefits of Unplugging
Consciously stepping away from technology can positively impact our mental health and productivity. Kittie cited an approach used by Scott Dockter, CEO, PBD Worldwide Fulfillment Services called "email free Fridays." On email free days, and those following them, mail dropped off 80%, less cc'ing occurred on messages sent, and face-to-face meetings and conversations increased. You would think, in light of such advantages, these tech-less days would occur more frequently. People fear missing something, though, so they don't. How, then, does unplugging become a well-received practice? Leaders make the difference.
Leaders: Pave the Way
Kittie suggested that leaders take the initiative to reduce technology overload experienced by their team. Implementing and modeling one or two of the following recommendations can make a huge difference:
Leave your cellphones at home one day a week
Set a "not to do" list
Eliminate tools and apps
Find a "detox" buddy for accountability and support
Learn moderation
Another practice Kittie herself promotes at her organization involves encouraging staff to check emails only at certain points of the day. This helps people stay focused on the important tasks, and not lose time in multitasking.
For more information about technology overload, and communicating effectively in this new device-oriented world, watch Kittie's full BYTE session here now.