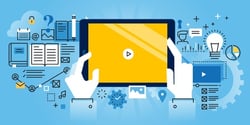 We know our modern learners use mobile devices daily. As learning practitioners, there's an expectation that we will adapt to and support this new way of life through our training programs. Thanks to blended learning, we can support this new vision for the digital age. Rather than transitioning traditional learning events to exclusively mobile delivery, we have the ability to transition portions of our content to an on-the-go treatment when appropriate.
Our approach to the mobile learning (mLearning) evolution matters. If we have unrealistic expectations about mobile technology, abandon thoughtful instructional design methods, or forget to gain stakeholder and learner buy-in, our mobile learning can't and won't prove successful.
Get started with mLearning by building on a fundamental knowledge of this approach.
Quick Review
Let's debunk a modern blended learning myth: mobile learning isn't about technology. Rather, as the InSync Training team defines, it refers to a "learning environment in which learners work from a tablet or a smartphone."
We categorize mLearning as a learning environment because it can host a variety of technologies, including eLearning modules, self-paced exercises, social collaboration, and virtual classroom sessions.
We can use the mobile learning environment to support:
Formal training
Collaborative learning
Just-in-time learning
Informal learning
On demand learning
Some devices, like laptops, can make the definition fuzzy around the edges. Not sure if your proposed environment falls under the category of mobile? Ask yourself, "Will the learning take place on the move?" If you answer, "Yes!" you've got a mobile learning environment.
Why Make the Move?
Understandably, learners love mobile learning. It's convenient based on their current habits. Practitioners point out other benefits such as:
Ubiquitous technology familiar to learners
Supporting remote teams and global employees
Convenience for both learners and trainers
Just-in-time option for in the field work
Flexibility in when and where learners engage with content
Wider reach of possible participants
With mobile learning, we have to think about convenience and availability. It allows us to get to our learners in a meaningful way. However, if they choose to go mobile and we haven't designed for that environment, they may not succeed in that training. In the modern workplace, that can be ok. We don't need to test everything. But we have to understand and prepare for that possibility.
Common Challenges of mLearning
Mobile learning is not a perfect solution. As we introduce this model into our organizations and to our learners, we need to consider:
Possible connectivity issues. Not all learners will have access to the same type of device.
Learner engagement in the face of distraction. Mobile learning means on-the-go, and by extension, competing priorities.
Technical and time availability for tech support, learners, and learning team.
Monitoring and testing gaps.
Corporate security policies for deployment to learner devices.
Many learners may not have the skills to manage the technology and the content.
Limited interactivity between learners, facilitators, and peers.
Difficulty in confirming the practical application of knowledge retention.
If we stay ahead of these challenges, we can mitigate them before they disrupt the learning experience.
Ultimately, we want to establish credibility by using mobile learning when it makes the most sense. For instance, when mobile devices provide instructional fidelity (authenticity).
When it is a realistic environment, that's when mobile learning has the power to transform our training programs into futuristic, learner-centric campaigns.