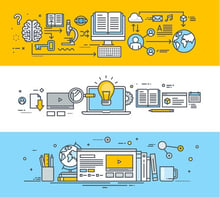 InSync Training BYTE Session Recap
Blended learning is the future of training. InSync Training President Jennifer Hofmann believes in the value of this approach. Recently, she spoke to BYTE session attendees for What Fits Where? Maximizing Blended Learning by Choosing the Right Tools, about how to maximize the effectiveness of blended learning by using the right tools.
This post will cover where learning professionals should start when designing blended learning, as well as four recommended tools. To review Jennifer's full presentation, click here.
Where to Start
Modern learners demand interactive and relevant content. Additionally, if necessary information isn't easily accessible when they need it, they'll do their own research using outside sources. These conditions, Jennifer explained, determine how Learning and Development pros design blended learning programs.
First, ensure the authenticity of the environment. We need to teach the content in the actual environment in which people will use it. For more information about different learning environments, I suggest reading this blog post.
Jennifer shared two examples of authentic learning environments:
"Think about an Amazon warehouse manager. Because they work inside a warehouse facility, they use a tablet to complete their work. To most authentically teach that person, create content delivered on a mobile device since that's how they'll utilize the skills on the job."


"You need to design training that updates office supervisors' leadership skills. Consider where these learners will leverage those new skills – likely at their desks, right? Design the learning to happen at their desks."
Second, when creating blended learning, decide how you'll deliver the content. Start with the media selection, or the treatment of the learning. Your focus should be on the learner and the environment together. To accomplish this, Jennifer says to ask, "Does the format (the how) provide authenticity to the learner in a particular environment that facilitates learning?"
Tool 1: Live Virtual Classrooms
Live virtual classrooms are one tool used in blended learning. They make sense when you're teaching virtual teams or virtual skills. When using this tool, keep content contextualized and short. Learners can interact and collaborate because learning occurs live. Virtual classrooms solve many difficulties of teaching global virtual teams. BYTE participants suggested the following topics for authentic live virtual classroom training programs:
"When time is of the essence and allowing participants to do prep before a session."
"When working with small groups and they cannot meet in person."
Training managers can't get away to a classroom due to their schedules and team demands."
Tool 2: eLearning
Authentic eLearning provides the facts in a directive manner. It anticipates learner needs and questions and provides an outlet for them. Our job as learning professionals is to moderate this experience. The other major benefit is the ability to assess the learning in a formal way. For these reasons, eLearning is a great option to use as part of a blend. Jennifer suggests making it available on demand so the learners can use it as needed.
Tool 3: Microlearning
If you're trying to reinforce learning in a blend, microlearning is a fantastic tool option. Generally speaking, a microlearning piece only lasts two to ten minutes, and while it must be able to stand on their own, it must also integrate into a larger program. Common examples of microlearning include videos, job aids, and blog posts.
Jennifer urges us to remember this about microlearning: "Learners don't have to walk away from microlearning knowing everything. They just have to know that useful information is available to them when they need it."
When creating microlearning, think about how it can start out as formal piece of content and then embed it in the flow of work, so that learners know where it is and when it may be useful. The more you do this, the more people will realize the content is worthwhile, and you'll become more of a partner to the business.
Tool 4: Social Collaborative Learning
The final tool Jennifer shared that we can use to maximize blended learning is social collaborative learning. This universal and participatory tool needs to be multi-directional. You can't just have a moderator posting to a community discussion board or in a LinkedIn group. Its goal is to develop relationships, and that happens when all participants engage and contribute.
Social collaborative learning doesn't just take place on social media, but it can. The most important use of this tool, Jennifer asserts, is to establish collaboration as a competency. Teach and encourage collaboration during training so learners can do so back on the job. This allows training to not only teach to specific program objectives, but how to work in today's collaborative workplace.
For more details about each blended learning tool, the difference between "push" & "pull" learning, and for a sample of a successful blended learning program, watch the full BYTE session recording here.