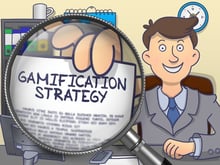 BYTE Session Recap
Gamification and game-based training are two topics trending in learning and performance. Many organizations have yet to embrace these approaches because there's a perception that fun doesn't equate to real learning. In reality, though, when incorporated with traditional instructional design theory, games have huge potential for learners.
Recently, Dr. Stephen Slota, owner of The Pericles Group, joined our BYTE roster for his presentation It's In the Game: Merging Contemporary Pedagogy & Instructional Game Design. This blog will share his views about the power of learning through storytelling, and the differences between gamification and game-based learning.
To review all the wisdom imparted during Dr. Slota's session, view his full presentation here.
Learning through storytelling
The power of story in reference to learning is grounded in our humanity. Dr Slota explained,
"Stories are what define us as people and as a species. Humans learned and transmitted knowledge through storytelling, even before there was such a thing as written language. We have Aboriginal cave paintings, Japanese art, Native American art, Egyptian Hieroglyphics, before finally going into Greek and Roman eras when we start seeing written language. It's not new. This is a very interesting, unique quality that we have as human beings. We transmit information generationally by storytelling."
Keeping this biology in mind helps us to understand the value narrative games and stories have when it comes to creating effective learning. When designing any type of learning, we need to create an environment where students can truly learn the specified objectives, and hopefully use these new skills back on the job. We need to remember to take advantage of our biology. Using games with story woven through them is one way to accomplish that goal.
Gamification vs. game-based learning
While they sound the same, gamification and game-based learning are actually quite a bit different from one another. Dr. Slota explained that, "Game-based learning is usually driven by something that is explicitly done in a class or course that mimics a game and includes those playful elements." Oftentimes, this approach uses narrative to encourage critical thinking and problem solving.
Gamification, on the other hand, is "more of an adoption of specific game mechanics that are oriented toward a particular behavior and scoring points." More succinctly, gamification uses game mechanics in a non-game context to encourage certain learner behavior.
When you begin designing games, keep in mind that doing so is very similar to designing instructional environments. How? Dr. Slota asserted that they both operate on the same principals, and used the ADDIE model as an example:
"In ADDIE, we design, we revise, we develop, we implement, and analyze. Along the way we evaluate to see if what we are doing is working or not working. In an educational game design, focus on the learning objective - is the game helping my students meet a particular learning objective? It's not just about reaching the end of the game. it's about gamifying to make students join a leader board and try to do better based on competition. It's about looking at those learning objectives and deciding what is the best way, the optimal way, to get my students to achieve a certain goal. [Design both games and learning environments with the intent that the] learning objectives should specifically correlate to the game objective counterpart."
Dr. Slota's session included a number of useful approaches, including a detailed process for how to build a game into your learning. To review this step-by-step guide, to discover a development strategy, and to learn why gamification and game-based learning matter today, review the full BYTE session recording here.
You can also follow Dr. Slota on Twitter @steveslota and review the game referenced within the session: http://portal.wecreatestuff.com/portal.php