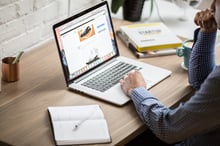 Are you moving towards blended learning with your modern instructional designs? Microlearning provides a viable approach for many training content pieces and learner support resources.
On the surface, microlearning may not sound like a universally accessible option. "My topic's too complicated to teach in five minutes!" you lament. And you'd be right – using microlearning effectively doesn't equate to compressing a three-day, hands-on training program into one five-minute explainer video.
Carla Torgerson provided a helpful use case that will guide you towards best practice during her informative BYTE session, Embracing Microlearning in Your Ecosystem.
Using Microlearning
In Carla's opinion, microlearning works especially well for:
Material already familiar to learners
Reviewing, practicing, or extending knowledge
Content easily isolated into discrete chunks
Microlearning isn't a great option for teaching complicated new content that requires in-depth explanation. Keep this in mind as you review your existing programs for possible redesign into shorter, more easily consumed content.
Microlearning can easily prepare learners for face-to-face or virtual instructor-led learning sessions. For example, create a quick three-minute video for your live sessions that defines the time commitment, flow, and expectations of your program. Share it with your learners prior to kick-off to get them up-to-speed, and ready for success.
A second common use of microlearning is event follow-up. Did a live session provide a complex five-step process for submitting a work order? Design an infographic that shares those five steps, and any relevant links or employee manual page numbers. Send it out to learners after the session, so they can use it to refresh for post-session work and on-the-job tasks.
Microlearning can also provide standalone training. Let's say a computer program used company-wide for billing hours gets a minor update that doesn't need an hour of in-person instruction to detail. Create a quick tutorial, publish it to the internal help desk, and make it widely available to the team. Don't forget to promote and market it to your learners so they know it's there!
The most common way Learning and Development practitioners use microlearning is as performance support. Carla described performance support as "what people will turn to when they're in their job trying to figure out how to do a task, and needing to do it better." Job aids and reference materials available on-the-job address moments of learner need.
One Additional Option
We love microlearning as a blended learning instructional design option. Fundamentally, blended learning selects the most appropriate treatment for each learning objective.
Microlearning comes in many forms: videos, infographics, blog posts, job aids, videos, tutorials, short eLearning modules, etc. It's flexible and adaptable. You can even connect individual microlearning resources to create one larger, overarching, cohesive training program (this is a technique called scaffolding).
Jennifer Hofmann also advocates for replacing traditional training guides with a series of microlearning job aids. Teach learners the content and how to use these resources when they need them. Voila! You now have reusable content and learners feel confident leveraging that content.