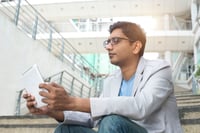 Mobile learning's on the rise, and for good reason.
Mobile technology, once a luxury, has become commonplace in our lives. We bank, read, socially interact, and more from a device that fits in the palm of our hand.
The Jetsons imagined a similar future, but did corporate training?
When Mobile Learning Works
Mobile learning is defined as a way to facilitate education by using devices like tablets and smartphones, and more than that. And 97% of Americans now own a cellphone of some kind, according to the Pew Research Center's recent study.
Think about where learners are likely to utilize their mobile technology. They're likely on the go, sitting at the airport, commuting on the train. Under these conditions, requiring learners to engage on their devices for a long period of time doesn't create a great experience. Conversely, though, short microlearning works well. Asking learners to watch a short video, review a digital flashcard deck, or read a mobile-friendly blog post makes sense and honors the industry standard of keeping microlearning between three and five minutes per exercise.
Additionally, many virtual classroom platforms have mobile apps or versions, allowing participants to log-in to a live online session while away from their computer. But, just because the technology supports an opportunity, doesn't necessarily mean we as learning professionals should encourage it.
Discourage logging in to virtual classrooms from mobile devices unless it provides instructional fidelity. If a program includes breakout rooms, application sharing, and whiteboards, the design inherently excludes mobile learners. But, if the event requires less participation, uses a webinar format of lecture-and-listen, or attendance meets a compliance requirement, access via mobile should work for your learners if they choose mobile access.
The Pros
Mobile learning offers a number of benefits which make it an advantageous option under the right circumstances:
Mobile learning builds on existing technical literacy. Adult learners bring established skillsets to our corporate training programs. When given the latitude to self-select their mobile device, they're more likely to engage in the process. The concept of bring-your-own-device (BYOD) eliminates the need for learning how to use new technology on top of learning new information.
Mobile learning encourages participation outside of the formal learning events. Self-paced activities, formally known as pre- and post-work, require learner buy-in. Mobile elements may inspire our audiences to complete elements of the blend on their own time.
Mobile learning supports special needs. As organizations become more global, our classrooms become multi-cultural. For example, we may teach a program in English, but can invite non-native speakers to use a mobile device with adaptions to provide an additional layer of support.
The Cons
Unfortunately, despite the benefits and even when used correctly from an instructional design perspective, mobile learning comes with its share of challenges:
All mobile devices are not created equal. As a result, learners have different experiences depending on their device. For example, learning on a full-fledged desktop where everyone is on the same type of phone line is not the same as being on a mobile phone. When a learner inevitably asks, "Is it okay if I participate on a mobile phone?" we need to tell them that if they participate on the phone they won't meet all the learning objectives. Adult learners will make their own decisions, but they need to know what they're giving up. Mobile doesn't create an equivalent experience.
Learners need to know their own tech. While BYOD allows for learner autonomy, it can cause technical complications for facilitators. If a mobile virtual learner asks a producer or facilitator how to use a tool on their Google phone, the instructional team member may not have the answer to that question. Set the expectation with learners that they need to know how to troubleshoot their own devices.
Lessons need to be designed for the lowest common denominator. We need to assume that not everyone will have bandwidth or access to all apps or certain virtual classroom tools on a mobile device. If you know your learners will be multi-modal, and an equivalent experience is absolutely essential, design interactivity that only uses the most basic tools. While this achieves the goal of an even playing field, it certainly lowers the "wow" factor of training that may be accessed on a mobile device.
IT still has some lingering concerns about BYOD. Ultimately, legal and IT may have concerns the preclude us from allowing learners to use their own devices or incorporating mobile elements into our corporate training blends. Before committing to this option, check with the appropriate parties for approval.
A Reminder
Learners and stakeholders may resist mobile learning. As facilitators and designers, we must take steps to establish credibility to overcome latent or overt mistrust.
Seriously consider your blend and ask, "Where would mobile learning best serve defined objectives?" Mobile may sound cool, but learners won't adopt or enjoy an incongruous learning experience.
As we move into a more modern learning model, we start to value this real time interaction between learners. Our lecture-oriented content becomes videos, infographics, and other forms of self-paced learning. Live learning becomes more collaborative and requires learners to take advantage of available social collaborative tools.
We are all participating in teaching one another, and when used appropriately, mobile learning can contribute to a well-designed and thoughtfully-facilitated blend.