At a recent conference, I attended a number of great sessions on mobile learning (popularly known as 'mLearning'). Since then, during my daily visits to my local coffee emporium, I have been thinking about mobile learning's place among the many different learning strategies available to us, especially the idea of a mobile virtual classroom.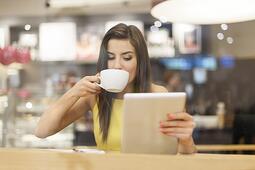 One of the programs I attended was presented by representatives from Adobe Connect who facilitated a highly interactive and engaging session on Adobe Connect basics. They invited us to join the session on our mobile devices (BYOD) as they demonstrated chat, whiteboards, breakout rooms and webcams. The session was very well received. This is certainly in part because the presenters were very lively and funny. But also, in a larger part, because -- like me -- many of the conference attendees were looking for something to fill in the gaps in mobile learning.
As we all know, mobile learning excels at disseminating new information very quickly. How many of you have used your mobile device in a new city to find the nearest place for a caffeine fix? That's a great example of disseminating new information quickly. Using a mobile device for performance support by providing information right when the learner is applying the new knowledge is another area where mobile learning is king. How many of you have used your mobile device to quickly Google an answer and therefore win bragging rights among your friends? This is another example of performance support and mobile learning.
One of the big gaps designing mLearning is creating live engagement and interaction. I enjoy spending time in my coffee shop because that is often where I can debate and discuss ideas with my peers. There are many moments where we all need a little information to help us solve a problem -- or simply win a bet with our friends. But there are just as many moments where we want to get feedback and suggestions from our peers on a new idea or we need some input on a challenge we're facing. We want this feedback immediately, not in a week or so, as is common on a discussion board. As much as I'd like to, I can't spend a week in my coffee shop waiting for an answer. Even for me, there is a limit to my java consumption!
Mobile virtual learning, with a live facilitator, fills that gap by offering a mobile solution where we can interact, engage, and collaborate with our peers in an immediate, live environment. It's almost as good as a coffee shop.
Another thing I enjoy doing in coffee shops is contemplating my current challenges and future possibilities. I do this often over a cup of coffee, but when I have peers to try out my thoughts and ideas with, the experience is enriched. More often than not, they each have a different viewpoint to offer which can take me in an entirely new direction. Google is great, but it can't debate different points of view or offer examples from different life experiences -- or get you an extra packet of sweetener!
Peer reflection and input via the live virtual classroom fills this gap in mobile learning. These types of interactions are ideal for the live virtual classroom for two important reasons: First, it takes a certain level of comfort and trust in your peers to offer personal reflections on your successes and failures. You can build this level of comfort in a live virtual classroom more quickly than on a discussion board. Second, because there is no travel involved in a live virtual classroom, you can have your peer reflection before the learning event as well as after the learning event. This allows for pre-event contemplation and post-event reflection.
For example, before the conference, I spent some time in my coffee shop, reviewing the conference schedule and deciding what sessions to attend on my tablet. In other words, I contemplated what I hoped to achieve during the upcoming conference. Now that the conference is over, I'm wondering (reflecting on) why there wasn't more discussion about the live virtual classroom as a mobile option. It fits in well with everything mobile learning is and makes mobile learning a more complete package.
Sounds like an idea I should bounce off my friends and peers in the coffee shop…or during my next live virtual classroom interaction on my tablet in my coffee shop - what do you think?