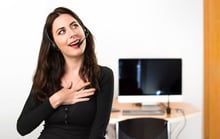 Let us count the ways!
Valentine's Day encourages us to fill our hearts with love and our bellies with chocolates. Not a team to ignore tradition, InSync, hit by cupid's arrow, considered all the reasons we adore the modern blended classroom.
Whether a learner or learning industry leader, a facilitator or designer, manager or new practitioner, we can all find something that gives us training butterflies.
Don't believe us? Read our sonnet and swoon!
Oh, modern learning, how we love thee!
With many tools and endless options, you help us adapt.
Platforms like Adobe and Webex add virtual classroom flexibility.
Thanks to thoughtful design, learner achievement isn't capped.
Consider live online, eLearning, or traditional face-to-face.
Add microlearning, and videos, and simulations,
Each design option has its rightful place.
Great blends are appropriate for all kinds of training occasions.
Facilitators expertly manage each blend.
And producers provide a helpful technical assist.
The instructional team's skills know no end.
Their teamwork makes each session not one to be missed.
You bring global learners, near and far, all together.
Oh dear, modern learning, we'll love you forever.
And while our love letter cannot contain all of the ways the modern classroom has helped evolve our workplaces, our talent force, and our organizational cultures, it speaks to the core of global blends: a process that honors our learners and their existing knowledge, provides agility and personalization, and allows for the radical and wonderful redefinition of skill building in the face of change.
This Valentine's Day, we hope you find the same joy and positivity in your work as we have found in ours.