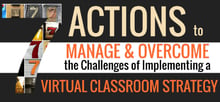 Recently, InSync Training helped a global organization transition existing face-to-face learning programs to the virtual classroom.
Most would assume that this project would simply include taking existing content, and dropping it into a new format.
That's far from the reality. During this evolution, we identified seven challenges that we needed to mitigate for a successful virtual classroom implementation.
The learning environment wasn't the only major change - facilitators, instructional designers, and participants all needed specific support.
This infographic, a support resource for our blog series, Managing Virtual Classroom Strategy Implementation Challenges, identifies these obstacles and provides solutions.
Fill out the form to the right to download your complimentary copy.