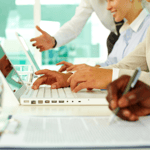 Live online learning events can engage modern learners - but how? Jennifer Hofmann, InSync Training's founder and a virtual classroom pioneer, has a few tricks up her sleeve.
Jennifer recently joined eLearning Guild's hosts for their brand new Now & Next audio series and answered pressing questions like:
What can we do to make training engaging when we're tasked with presenting less-than-exciting content?
How can we create dynamic virtual training experiences through multiple voices?
Which engagement best practices should trainers use?
How can we read body language when we can't see our learners?
What features should we look for when selecting a virtual classroom platform?
What's new and what's next in virtual learning?