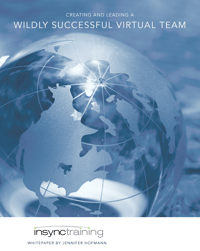 This paper is a case study based on a highly successful virtual team: ours!
The team here at InSync Training grew organically and created its own best practices as we grew because it was the right thing to do for our customers. Our team is proud of the way we work - and that we have the most functional working relationships most of us have ever experienced. I am proud to share this story with you.
InSync Training launched as a virtual company in 2000. We've learned a lot since then and our success shows what a virtual team can do. The fact is, a virtual team can be very effective if the correct conditions are created and maintained. Creating the correct conditions is simply a matter of bringing together the right personalities, making sure they have the correct tools, and then leading that team effectively.
To receive your complimentary copy of Creating and Leading a Wildly Successful Virtual Team, please complete the form on the right and click on the 'Submit' button.